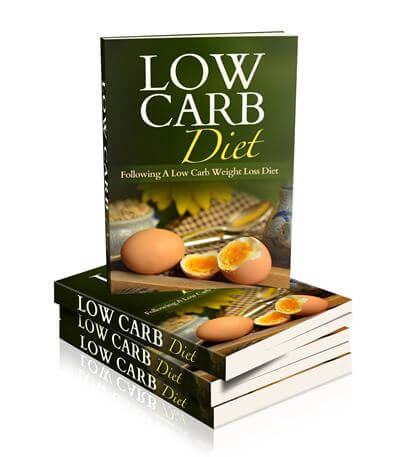 This low carb diet PLR package contains information on how to lose weight (and why you do) when following a low carb diet. The articles are well-researched and answer questions to so many answers about this type of diet.
Both you and your website visitors are going to love this pack! If you are in the weight loss niche, health and fitness niche or even the heart health/obesity niches, this pack will fit in perfectly.
The infographic also provides excellent information that people will want to save to their favorite social media sites and share (which means more traffic for you!)
The infographic covers important points for them to be able to follow a low carb diet and lose weight!
Our 'Low Carb Diet' PLR package contains articles, full-size infographic, eCover graphics and tweets. Here is a list of the full details in this quality PLR pack.
Low Carb Diet PLR Pack Description
10 Articles in 2 different file formats – Word and Text.
eBook created from the articles – fully illustrated and formatted., disclaimer, introduction and conclusion added.
eCover Graphics – 2 graphics, 1 flat and 1 x 3D cover, plus PSD editable file.
10 Tweets (or Facebook posts) ready to use, just place your website link and tweet/post!
10 Social Posters – each one corresponds with one article.
1 x Infographic. This is a mega size infographic! Available in JPG and PNG. You see our infographics on authority websites! So why not let it be yours!
Low Carb Diet PLR Article Topics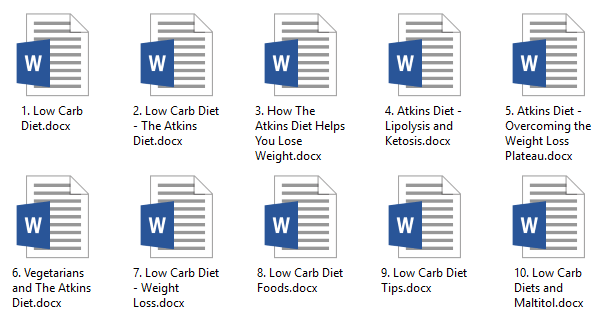 Take a look at our article titles below to see exactly what we cover! These articles give the nitty-gritty on not only how you can lose weight on a low carb diet, but also how you can keep it off for life…and we explain the process of why this is so.
Low Carb Diet – 752 words
Low Carb Diet – The Atkins Diet – 629 words
How The Atkins Diet Helps You Lose Weight – 554 words
Atkins Diet – Lipolysis and Ketosis – 571 words
Atkins Diet – Overcoming the Weight Loss Plateau – 612 words
Vegetarians and the Atkins Diet – 629 words
Low Carb Diet – Weight Loss – 732 words
Low Carb Diet Foods – 634 words
Low Carb Diet Tips – 612 words
Low Carb Diets and Maltitol – 548 words
Low Carb Diet PLR eBook
We've created an eBook from the articles for your convenience! It's 36 pages and 7,049 words long! This ebook is fully illustrated and formatted, and includes a disclaimer, introduction and conclusion. It also has a table of contents with hyperlinked pages.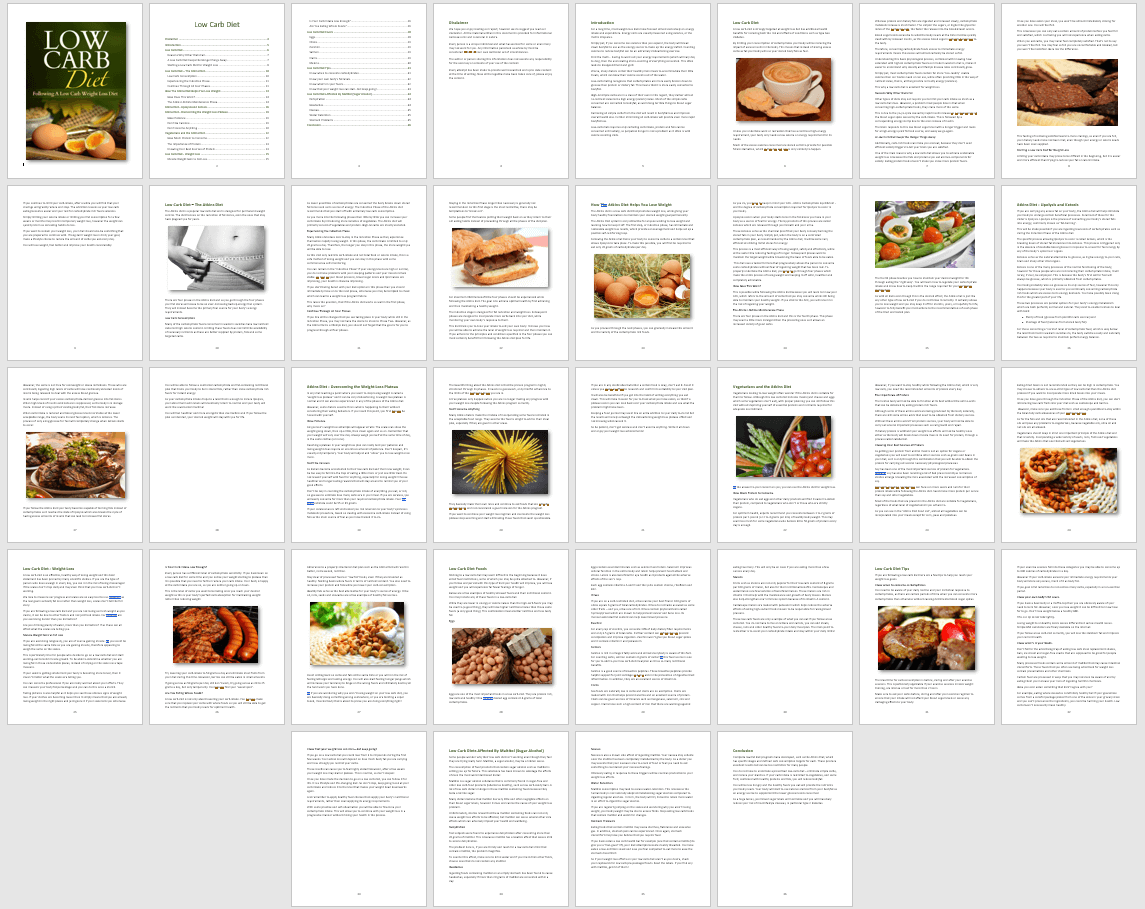 Low Carb Diet PLR eCover Graphics
You will 4 different styles, plus the PSD file.
Low Carb Diet Tweets or Facebook Posts
To help promote your content on Twitter or Facebook, we have written 10 tweets (or post updates) to get your followers talking and clicking through to your website. Each Tweet covers one of the articles…so you don't have to think about what to write. Just remember to add your link back to your website!
These handy little snippets cut your social media posting time in half as you just have to copy and paste. You can also use them for the social posters below!
Low Carb Diet PLR Social Posters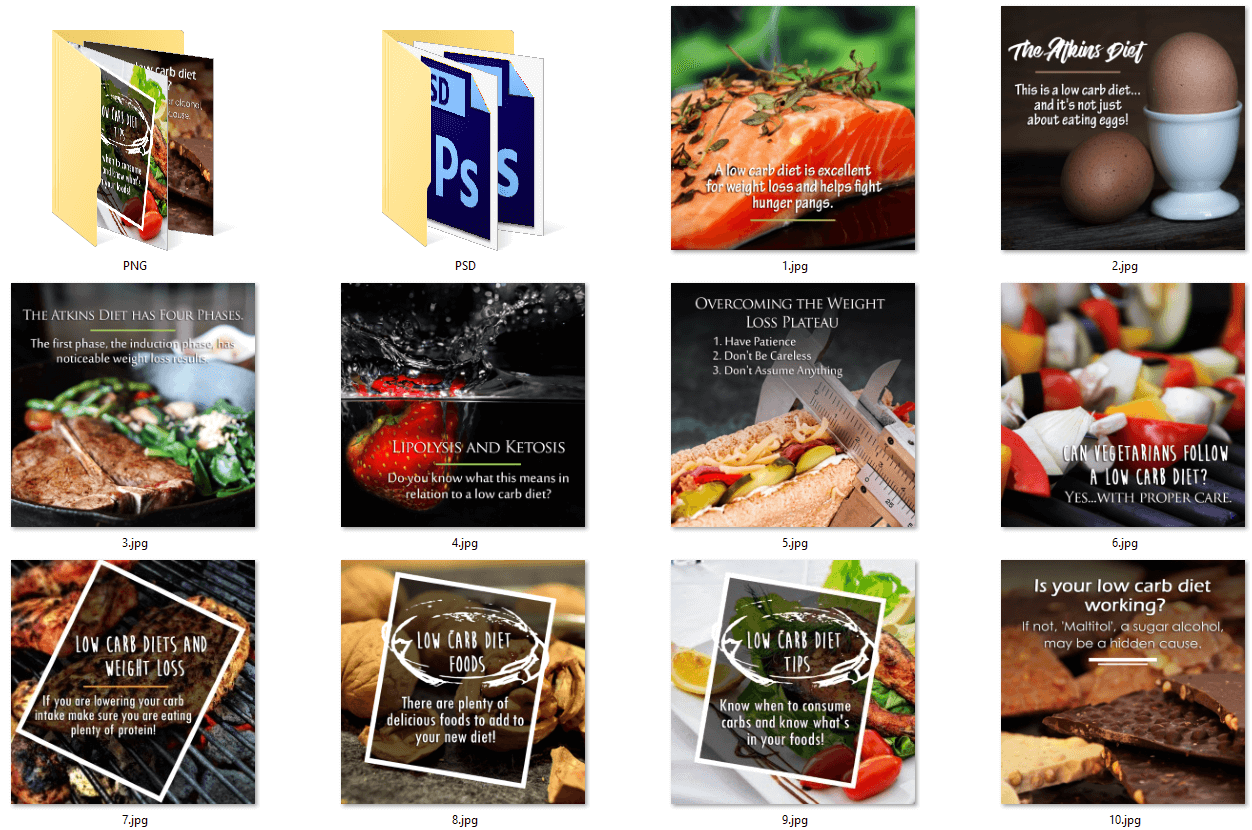 Low Carb Diet PLR Infographic
All our infographics are full-size and this one is gigantic! Our "Low Carb Diet" mega size infographic measures 800px x 7,560px. It has been created to make 11 more mini-size infographics (which are huge) as shown below.  It also shows the differences of following a high carb diet versus a low carb diet and the four phases of the popular Atkins Diet.
This infographic is worth the package alone ten times over!

Excellent Quality + Value
ONLY $30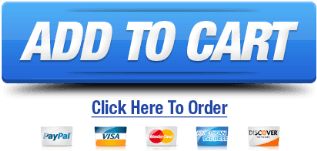 How To Use Your PLR Package
Private label rights content has hundreds of uses and we intend to help you with helpful ideas to build your lists and promote your websites using our quality PLR. To give you ideas on how to use this pack, you can:
Post the articles on your website either as is or you can re-write them to suit your own 'voice' or personal style
Upload articles into your autoresponder to provide valuable information to your readers.
Create a report as an optin offer
Post snippets of articles to Facebook or other social media sites
You can read the content and record your voice to create podcasts
Hold a Google hangout and be an expert in your niche
Share the infographic to Pinterest and all your favorite social media sites and create traffic to your squeeze page
If you would like more ideas, just ask! There are hundreds of ideas and these are just a few!
You are only limited by your imagination…but if your imagination fails, we are here to help you!