This Gluten Free PLR content will help you teach your customers how to live gluten free by following a gluten free diet. If you are in the health and wellness niche, especially the diet and nutrition niche, then you will love this high quality, well-researched pack. This content is helpful for those people living with a gluten intolerance and celiac disease. Take a look at our article titles below to see exactly what we cover. This high-quality 'done-for-you' private label rights content is ready to edit and brand as your own!

Gluten Free PLR


Gluten Free PLR eBook
Gluten Free – Your Health Guide to Living Gluten Free
6,712 words, 36 pages. – Formatted and includes a table of contents with easy to click hyperlinked pages. Disclaimer, introduction, and conclusion added. Fully illustrated with 100% royalty-free, commercial use licensed images. Word and PDF formats supplied. Created from the articles in this pack.

eBook Cover Graphics
Eye-catching eCovers in four different styles to suit your own requirements. Provided in both JPG and PNG high quality formats. Plus you get the editable PSD file.

Gluten Free Diet PLR Articles
This package includes 10 professionally written and edited articles. Articles have been repurposed to create the eBook.

WordPress Page and CTA Graphic
Squeeze page, or optin page, or use as a sales page. Simply copy and paste into your WordPress page.
A 'call-to-action' graphic is also included to place anywhere on your website or on social media. Link to your squeeze page and watch your customer base and sales grow!

Social Posters
10 social posters to boost your written content and be seen in your favorite social media platforms.
These eye-catching graphics are provided in JPG web-ready files, plus the editable PSD files.

Infographics
Full size infographic designed to provide 4 more individual infographics. That equals 5 infographics in total to be able to use and share.

Gluten Free PLR eBook
The eBook that has been created from the articles, and is 36 pages and 6,712 words long. It is fully formatted and includes a table of contents with hyperlinked pages, a disclaimer, an introduction, and a conclusion. If you don't want to make any changes, the PDF is ready to go. The PLR ebook is also fully illustrated with our beautiful social posters, which are created from royalty-free, commercial use images.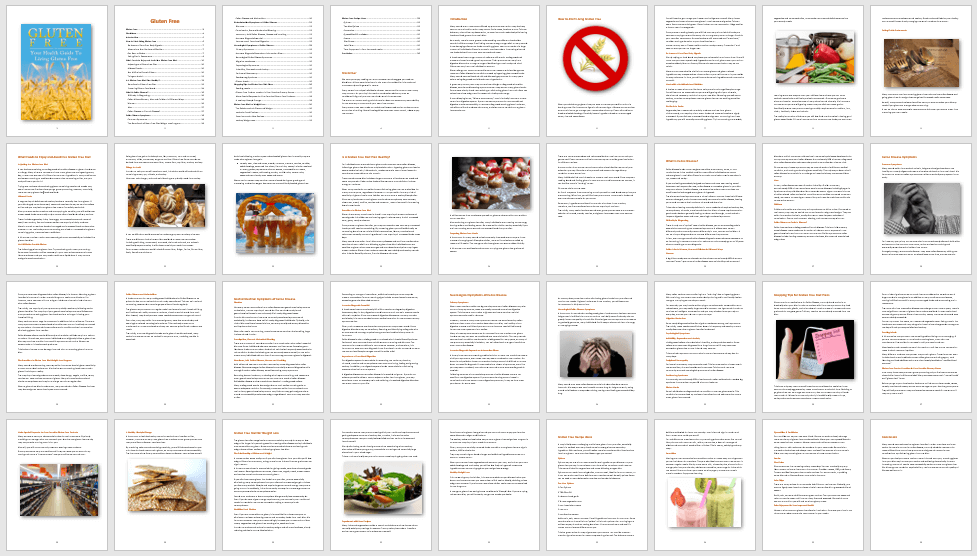 Gluten Free PLR eCover Graphics
We have designed these eCover graphics so you don't have to! You will receive 4 different formats as shown in the image above. Plus, you will receive the PSD editable file.


WordPress Page and Call-to-Action Graphic
This WordPress page has been created so you can either offer the eBook as a gift to build your list, or use it to sell the eBook. Just tweak and edit for your own needs and add the optin code or a buy button. The choice is yours.
Simply 'copy and paste' the text into your WordPress page and then add your optin form code. You can also use the text if you prefer to create html pages.
We've also created a call to action graphic which you can place anywhere in your website, or in your social media sites too.
You can place it under relevant posts which will catch your website visitors attention. Link it to your squeeze page or sales page. Instructions are included.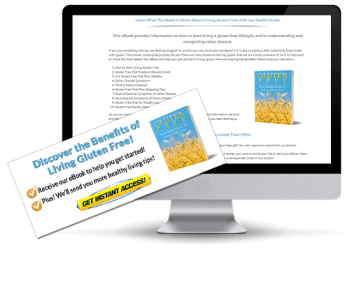 Gluten Free Diet PLR Articles
If you have already purchased some of our content you will know the quality of the content you will receive. If you haven't, we either write or edit every article. We know we provide quality in every package.

How to Start Living Gluten Free – 594 words
Gluten Free Diet Foods to Eat and Avoid – 524 words
Is A Gluten Free Diet Plan Healthy – 588 words
Celiac Disease Symptoms – 522 words
What is Celiac Disease? – 525 words
Gluten Free Diet Plan Shopping Tips – 593 words
Gastrointestinal Symptoms of Celiac Disease – 551 words
Neurological Symptoms of Celiac Disease – 669 words
Gluten Free Diet for Weight Loss – 609 words
Gluten Free Recipe Ideas – 628 words

Gluten Free Diet PLR Social Posters
Look at these beautiful posters! Plus you receive the PSD files too! These handy posters cut your social media image making time in half… your social media posts never looked so good.


Gluten Free PLR Infographics
Our infographics are huge! The full size infographic measures 800px x 4000px. It has been designed so you have a further 4 infographics to use and share. Only authority websites have these professionally designed infographics and they cost hundreds of dollars to have created.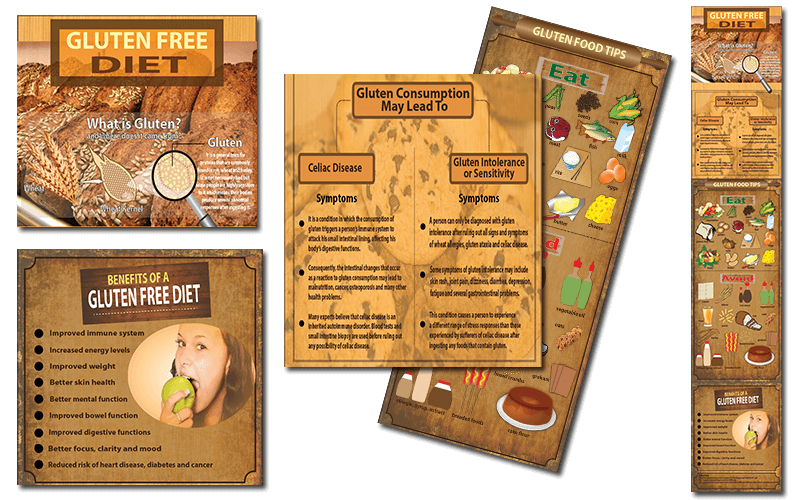 By now you can see the value and it's available to edit and brand as your own for…
Only $37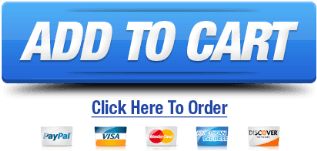 Only $37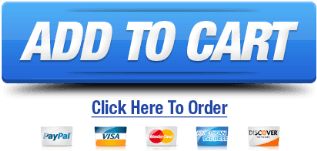 Are these some of the frequently asked questions your customers ask you? If so you will be able to help them with this Gluten Free PLR content!
Is allergy to wheat the same as gluten?
If you have a wheat allergy you do not necessarily have a gluten allergy, you have an allergy to some or all of the components in the wheat. Gluten is just one component of wheat, so the two allergies are different.
Should people with celiac disease follow a gluten free diet?
If a person has been diagnosed with celiac disease they should avoid gluten for the rest of their life. Once a gluten-free diet is followed, many health improvements, such as with irritable bowel syndrome, can be noticed in very short term, providing the diet is sustained.
How do you lose weight on a gluten free diet?
If you eliminate gluten rich foods from your diet, you are eliminating many simple carbohydrates from your diet, which cause weight gain. People who undertake a low carbohydrate diet generally lose excess body fat and their gluten belly.