Do you want to attract new customers, or 'capture leads' and turn your leads into buying customers? Of course you do! You may have heard that the best way to do this is to set up a 'sales funnel'. So what is a sales funnel and how do you set one up?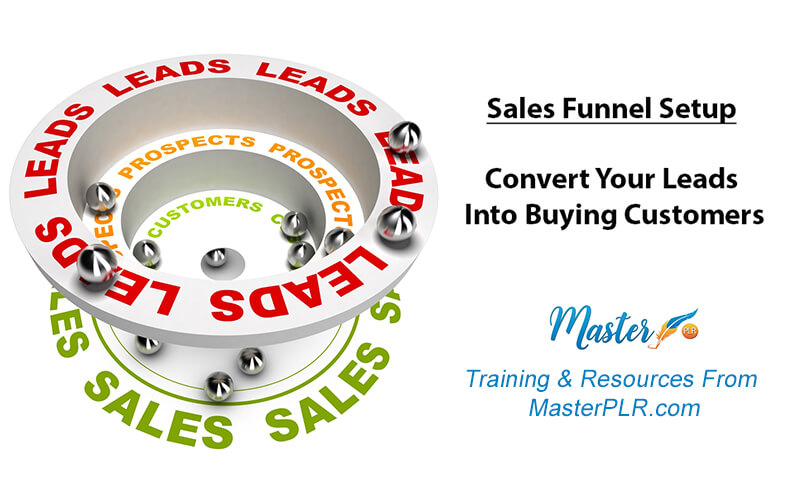 In this article I am going to take you through the steps of setting up your own sales funnel for your business.
What Is A Sales Funnel?
A sales funnel is the process of taking a potential customer through a series of qualifiers with the end goal being to make a sale. Imagine a wide opening funnel.
At the top, your leads may have varied needs and as they progress through the funnel, they become more and more qualified until the final small funnel opening has buying customers clicking their way through to your offer.
Your funnel begins with a squeeze page (also known as a landing page or opt-in page). This is to get your reader to subscribe to your list and learn more about your offer.
Your squeeze page needs to be promoting an irresistible offer. One that your reader is not going to want to refuse! If you want to 'squeeze' their details from them you have to give them something of value in return for their own valued name and email address. If you succeed, you will have them signed up to your email list.
This step is one of the hardest steps for most people. Building a list is the most important part of your business, but it can be the hardest and most frustrating. In addition, you need to make your sure your email series is interesting and providing value to keep them on your list!
So how do you build your list with a squeeze page?
To start with your squeeze page needs to be exciting enough for your reader to want your information and bite the carrot you have placed before them.
Create Your Squeeze Page – (Landing or Optin-In Page)
If you have a relatively new business, you may have to research your market and find out how you can provide a solution to your customer's problems. You have to know who your ideal customer is and what they want. If you already know, you will be ready to get started.
Make your page easy to read and follow.
Include bullet points which cover the main features and benefits of your offer.
Make your call to action a quick and easy process.
Keep it simple.
Tell your reader to 'click here' or 'enter your name and email'.
Don't assume anything. Give clear instructions.
The above points may seem basic but research has shown that people need to be told what to do. Explain how they have to fill out the box below or to their right. Even though the box may be clearly visible, people specifically need to be instructed what to do or they will often gloss right over it. This can be done with written instructions or by using a short video on your page.
Keep your squeeze page short and simple and do not put anything else on this page except details of your offer plus your opt-in box. This way your reader has only two choices. They can sign up for your irresistible offer…or leave. If you get subscribers added to your list, then your page is doing what it should! If it isn't, then you either need to tweak your page or review your target market.
Important Elements To Place On Your Squeeze Page
Title – One of the most important steps!
Subheading – A brief explanation.
Bullet Points – Features and/or benefits.
Instructions – Explain what they need to do to get your offer.
Call to Action – Tell them to do it!
Opt-In Box – This is where they will give you their name and email address.
You can add a reminder that they will instantly receive your offer when they enter their details.
Place your legal disclaimer page links and other important links in the footer.
Your headline and subheading needs to grab your reader's attention. Your bullet points need to highlight the features and benefits of your offer without giving away any information. Think of these as teasers.
The whole idea of setting up a sales funnel is to attract your ideal customers to your list. They may not know you yet, so ultimately you want them to get to know you and trust you and eventually be confident in purchasing from you. If you are offering something they need for free, you have a good starting chance.
Logical Sales Funnel Steps
Make your sales funnel flow in an easy to follow sequence. Your customer will be learning to trust you and happily accepting your next step… further into the funnel… and proceeding forwards… towards your end goal… and that's to make a sale.
After your customer has made their way through the funnel and made their purchase, it doesn't end there!
On the download page or thank you page, you offer another irresistible offer. It could be a 'one time offer' that has a steep discount or it may be that you have setup another funnel with another offer they can't refuse to opt-in to!
You may be saying, but they are already on my list, why would I want to do that? The answer is, you have another targeted list for that type of offer.
Whatever you do, DO NOT make the mistake of hiding their original download link on another page or have them jumping through hoops! Have the download link clearly on that page! This way you are just offering your buyer something else you thought they might like.
The Download Page
On the download page, you can also provide another offer. Here are a few tips to show you what you can do.
Title – Thank them for their purchase.
Download Button – Make sure they can download their purchase!
Subheading – A brief explanation of your one time offer.
Bullet Points – Features and/or benefits.
Instructions – Explain what they need to do to get this special offer!
Call to Action – Tell them to do it!
OR… you can add affiliate links to other products similar to the one they just purchased from you.
Giving your buyers a logical process to follow creates a good image of you. Therefore your chances of them buying from you again increases. If you don't oversell and give value they will come back time and time again.
Once you have guided your customer through your first sales funnel, and if you have done it right, they will know you provide quality and value, therefore the next sales funnel you put them through can include either more options or higher prices.
A few weeks after their first purchase you can follow up with them and recommend an additional product that complements the first. See if they got the results they expected from your first offer and ask if they are having any problems.
If you ask questions in your emails you are more likely to get some good feedback. Plus, replying to your emails is a good step to having your emails delivered into their inbox! This can be invaluable in many ways and it helps you to learn what your customer needs.
You may find they ask questions that will lead you to creating another product! Ask them if you did, would they buy it from you? You would already be qualifying your leads.
Your role is to then simply find or create the product they need to solve their problem. By providing another solution you are building even more trust.
Your Offer – It Has to Provide Value
You need to be giving away something of value. They are looking for a solution to a problem and you hold the key! So what are you going to give away?
It could be a report, ebook, email series, video tutorial or even a small part of your own time.
Whatever you decide upon do not penny pinch here. Remember they are giving away their email address and name. Add more value than what they expected! Have you heard the term 'over deliver'?
The other consideration to take into account is you. How are you positioning yourself to your customers? Are you coming across as a 'watch me as I learn' type of marketer? Or are you positioning yourself as an expert?'
Once you have created your free offer it is then time to go to the next step of the sales funnel. Deciding what special offers, up- sells or one time offers you intend to provide.
Special Offers and Upsells
'Do you want fries with that?' That is an upsell. We have heard them all our lives! Smart business owners know, that when the hand is in the pocket, it is more likely to spend than if the wallet is put away. Upsells and one time offers are something that often deters new marketers. They are so happy to have made a sale that they feel pushy if they offer another deal.
Adding an upsell to your sales funnel is not a bad thing. The biggest mistake is to not offer a complementary product related to your first offer and to your buyer.
There are many places you can place a special offer or one time offer.
Your download or thank you page.
In your first email after they have opted into your free offer.
If you have a membership site then you can offer a special deal or a lifetime deal if they became a member.
Your upsell offer can be an affiliate program you promote if you don't have another product of your own. Your upsell should be a product or service that helps your customer find additional, relevant information. This way you come across as a caring provider who is willing to help.
Another way to add more value to your products is to offer them in an additional format. This even applies to your original free offer. You could offer an audio or video version of your product as your upsell for a few additional dollars.
Conversely if your offer is expensive and you don't want to lose sales from people who may not have the money to purchase, you can offer a downsell. It may not include all features in the higher priced version, but it should still offer value at a cheaper price.
Traffic To Your Squeeze Page
Now that you have your squeeze written you need to get people to see it. There are many different ways to do this and some marketers actually refer to this as creating entry points. Your goal is to provide various gateways that people can enter your squeeze page.
Here are some ways to get your squeeze page seen:
Advertise on Google and other search engines.
Advertise on Facebook.
Post content and videos wherever possible – Also improves your SEO.
Write a press release.
Create a YouTube video about your offer. Link to your squeeze page in the 'more information' section!
Use social media – Post your squeeze page links on your various social media platforms.
Write a blog post about your offer and link to your squeeze page.
Post in forums and have your signature link to your squeeze page.
Contact other marketers and offer them a fee for promoting your offer.
Contact other marketers in your niche and give them access to your product. They may write a review for you in return.
You can check what is working if you use Google Analytics. You can track where your results are coming from and will see what tactics are working the best. Remember it is also wise to create at least two squeeze pages pages, more if possible. That way you can split test your results. There may be certain colours or fonts that appeal in preference to others, or you may have a killer headline that beats all others.
Always test and measure and track your results. Your email list will grow and so too will your bottom line.
I hope this helps answer some of your questions. If it doesn't please ask me in the comment section below!