This PLR package includes an eBook, eCover graphics, 10 articles, social posters, social media snippets, and an infographic. If you are in the personal development niche, you will be able to help your website visitors learn how to be grateful to achieve their desires. Here's what's included in detail…
Gratitude PLR Package

eBook – Power of Gratitude
8,653 words, 45 pages. – Formatted and includes a table of contents with easy to click hyperlinked pages. Disclaimer, introduction, and conclusion added. Fully illustrated with 100% royalty-free, commercial use licensed images. Word and PDF formats supplied.

eBook Cover Graphics
Professionally created. Eye-catching eCovers in four different styles to suit your own requirements. Provided in both JPG and PNG high quality formats. Plus you get the PSD file to edit and brand as your own.

Infographic
You'll receive an infographic to get even more shares on social media. Lengthy infographics are great on Pinterest!

Social Posters
Eye-catching social posters, one to complement each article. Web-ready files ready to use, plus the editable PSD files are included.
It will literally take you just a few minutes before you are ready to start building your list with your giveaway report.

Social Media Snippets
10 social media snippets for you to use wherever you like to post and share!

Articles
You'll receive 10 professionally written and edited articles which have been used to create the eBook. You can use the articles as blog posts, and the eBook to build your list or sell to your customers. The options are endless!
The Power of Gratitude PLR eBook
This eBook has a disclaimer, table of contents, introduction and conclusion. It has been created from the articles in this offer. It is beautifully formatted and illustrated with our royalty free, commercial use, social posters! 8,653 words, 45 pages.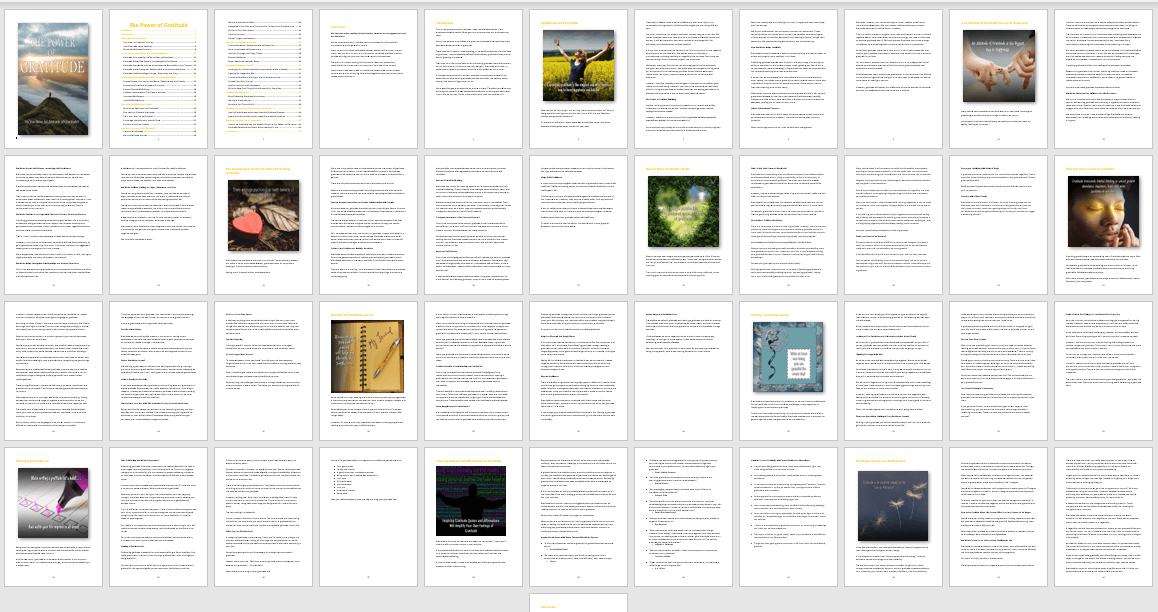 eCover Graphics
These eBook covers are designed with royalty free, commercial use images.
You'll receive 4 different style formats, plus the editable PSD file!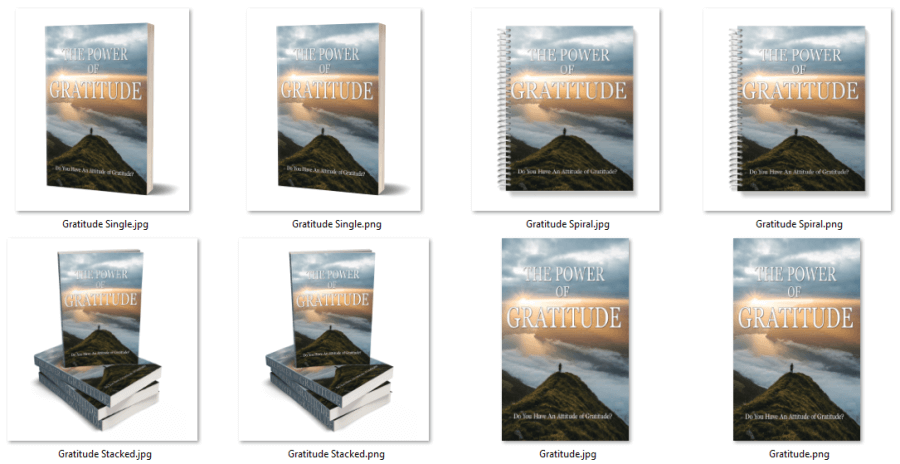 10 Articles
Professionally written and edited articles… and lengthy word counts!
1. Mindfulness and Gratitude – 839 words
2. Is An Attitude of Gratitude the Key to Happiness – 773
3. Psychological Health Benefits of Practicing Gratitude – 728
4. How to Make Gratitude a Habit – 743 words
5. How Can You Learn to Be Grateful – 819 words
6. Benefits of A Gratitude Journal – 739 words
7. Starting a Gratitude Journal – 870 words
8. Making A Gratitude List – 717 words
9. Inspiring Quotes and Affirmations on Gratitude – 795
10. Gratitude and the Law of Attraction – 699 words
Social Posters
All images used in our content creation, designed to pass on to YOU, are legal! They are licensed for commercial use and royalty free.
You'll receive 10 social posters, each one suits an article in this pack. They're perfect for sharing on any social media site and your own website! You'll also receive the PSD files for editing.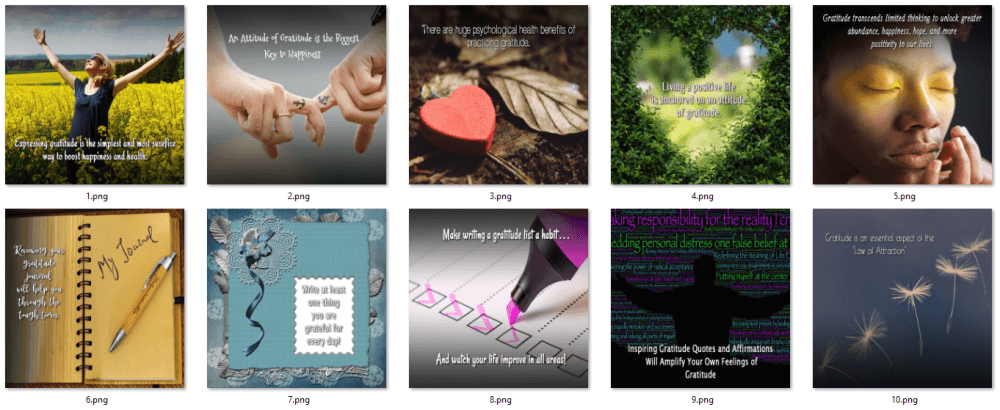 Social Media Snippets
Ready to use social media posts to spread the word about your new content. Post an article and social poster on your website, then share the snippet and your website link to all your social media platforms!


Infographic
You'll also receive an infographic that measures 1,000px x 4,973px, to help boost your online presence. Authority websites have infographics like these, as they are quite expensive to have created. However, now it's your turn to be seen as an authority with this professional graphic.


By now we're sure you can see the amazing value. Just click the button below to instantly receive this done-for-you package.
Only $37