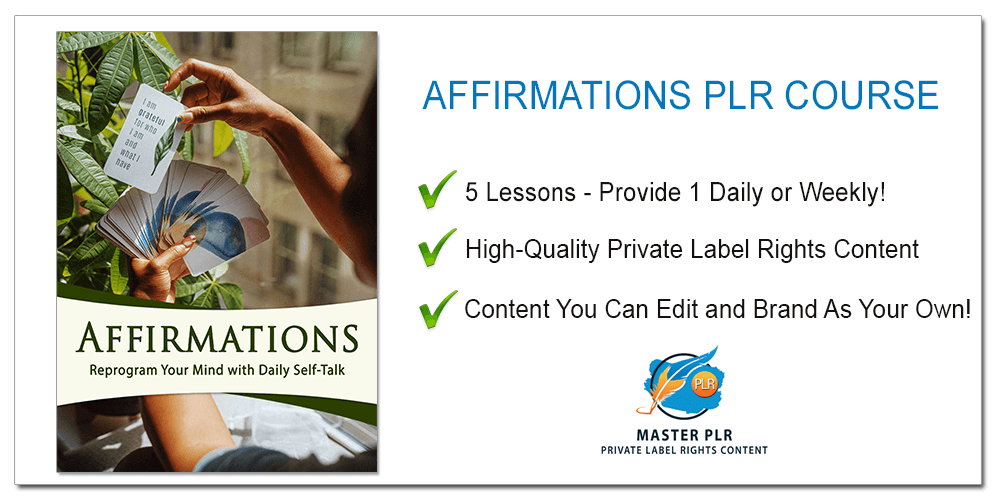 Affirmations PLR Course
This Affirmations PLR Course is ready for you to edit and brand as your own. There are 5 lessons, plus 40 affirmations you can provide your customers. These will help them to get started in creating their own personalized affirmations to benefit themselves. You can use the lessons as an email course or in a membership. Or you can use them as articles on your website. The choice is yours. They are ready to use in your business and brand as your own.

Affirmations PLR Course Content
You will receive an introduction, five lessons, plus 40 affirmations to help your customers create their own. Here is what your customers will learn.
Introduction – Affirmations Course – 495 words
Lesson 1 – Designing Effective Affirmations – 927 words
Lesson 2 – Incorporating Affirmations into Your Morning Routine – 921 words
Lesson 3 – Enhancing Affirmations with Visualization – 881 words
Lesson 4 – Tailoring Affirmations For Your Specific Goals – 699 words
Lesson 5 – Overcoming Challenges and Maintaining Momentum – 759 words
20 Affirmation Ideas to Help You Acieve Success
20 Affirmation Ideas To Boost Your Happiness
The content is provided in Word docs, Text files and PDF formats. This content is high quality and exceptional value, and it is ready for you to use!
Affirmations PLR Course Cover Graphic
To help you promote your course we have provided a cover graphic for you. Provided in both JPG and PNG high quality formats. Plus the PSD file to edit and brand as your own.


Affirmations PLR Course Squeeze Page and Thank You Page
You will receive a squeeze page, which you can use to have people sign up for an eCourse, however, if you want to charge people for the course, you can remove the autoresponder section and add your buy button! You will also receive a thank you page too! Instructions to upload to your server are included. However, you can use the course on any platform you desire!

This course is all done-for-you! If you have been wanting to setup your own course, now you can! It is high-quality content at a very low price. Help your customers create the life they desire by using affirmations!
Only $17

How can I use this Affirmations PLR Course?
You can upload to any platform you desire! You can sell the course to your coaching, or personal development customers, (without a private label rights license of course), or have them sign up to your course for free. The choice is yours.
Can I use this Private Label Rights content as articles on my website?
Yes you can! You can use them as website content, as if you wrote the articles yourself.
Do you have other Affirmations PLR content that suits this course?
At the time of writing we have a complete sales funnel on positive affirmations that we hope to release soon. It will contain an eBook which you can provide as an upsell to your course! Plus there will be a report and articles and gorgeous graphics too.
Only $17