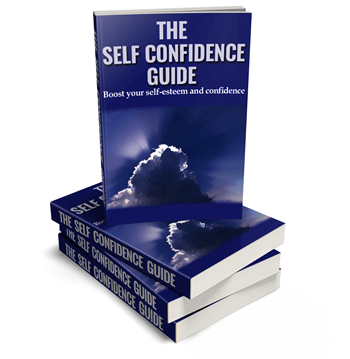 The self-improvement niche is huge and this self-confidence PLR package is filled with high quality content that we know you'll be proud to use! We know you'll love this package as much as we did creating it for you.
It's filled with ready-to-use content. We've edited everything and we know it's good. The only editing you'll ever need to do is if you want to add your own voice to it instead of ours!
Self Confidence PLR Pack Includes
Here's what's included in this private label rights package:
10 high quality articles in text and Word doc files.
All articles professionally written and edited.
An eBook, created from the articles in this pack. Beautifully formatted, disclaimer, introduction and conclusion added.
eBook fully illustrated with royalty free, commercial use images.
eCover graphics for the ebook. In 4 different layouts, including a 3D stack. The PSD files are included for editing.
10 professionally designed social posters, plus PSD files! Beautiful typography and photographs. People won't be able to resist sharing your posters. Just add your URL and enjoy going viral!
Plus a full-size infographic, that has created another 3 mini-infographics!
10 High Quality Self Confidence PLR Articles
Here are the 10 article titles and their word counts.
Low Self-Esteem and Self-Confidence – 609 words
Being Self-Conscious – 863 words
Fear of Failure and Self-esteem – 571 words
Use Positive Self-Talk to Boost Confidence – 744 words
Steps to Improve Your Self-Esteem – 785 words
Focus on Your Strengths, Not Your Weaknesses – 774 words
How Confident Do You Appear to Others? – 696 words
Steps to Build Your Self-Confidence – 715 words
Self-Respect – 680 words
Self-confidence and Goal Achievement – 718 words
Self Confidence PLR eBook Created From The Articles
If you prefer an ebook to articles, we have done all the work for you! The ebook is supplied in a word doc and a PDF file, plus we've written the disclaimer, an introduction and a conclusion for you. The ebook is 39 pages and 7,914 words long!
All the images are royalty free licensed and are for commercial use.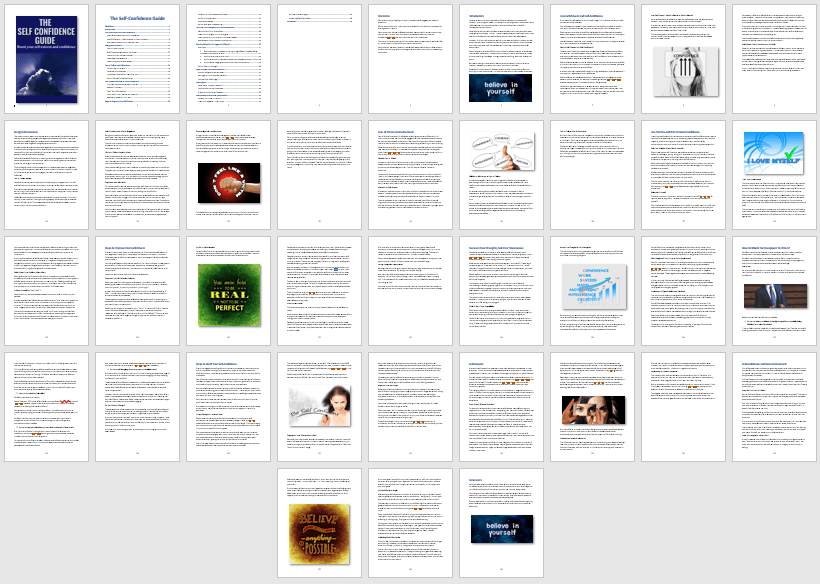 eCover Graphics Plus PSD File
Beautiful eCover graphics ready to go!

Professionally Designed PLR Social Posters
Plus, social posters to add to your website or social media platforms or both! These files come in JPG, PNG and PSD files are included for editing.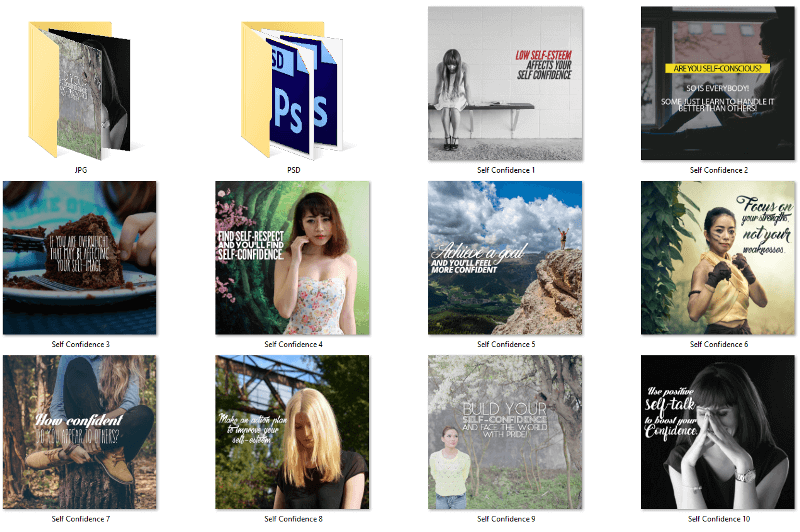 Full Size Infographic
This super-sized infographic measures a whopping 800px x 6,627px. This is what the authority sites display on their websites. This infographic is professionally designed. Plus, it creates another 3 "super-sized mini-infographics", so you have lots more chances of going viral on the social media platforms!

Exceptional value and high quality content you can use right now!
All this for ONLY $30