Self Care PLR – Total Wellness PLR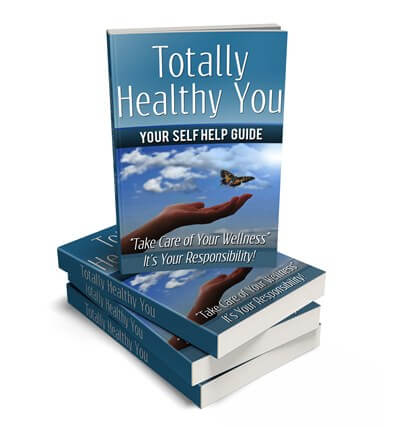 This self care PLR package is a fantastic self help guide to help people take care of their own wellness… mentally and physically.  After all it's each person's own responsibility! This pack includes articles, an ebook, ecover graphics, social posters and more. Check the article titles (and word counts) below to see what's covered in this pack!
Self Care 'Total Wellness' PLR Package Includes…
10 high quality articles in text and Word doc files.
All articles professionally written and edited.
For those who love ebooks, we have created an ebook for you from the articles in this pack.
Beautifully formatted.
Illustrated with our designed social posters, which are royalty free, commercial use images.
eCover graphics in 4 different layouts, including a 3D stack. The PSD file is included for editing.
10 professionally designed social posters, plus PSD files! Beautiful typography and photographs.
People won't be able to resist sharing your posters. Just add your URL and enjoy going viral!
Full-size infographic, plus extra BONUS infographics! Be an authority in your niche!
Self Care – Total Wellness PLR Articles
All articles are professionally written and edited! We only provide quality content you can be proud to call your own. We know exactly what's in our packages, because we personally package it for you!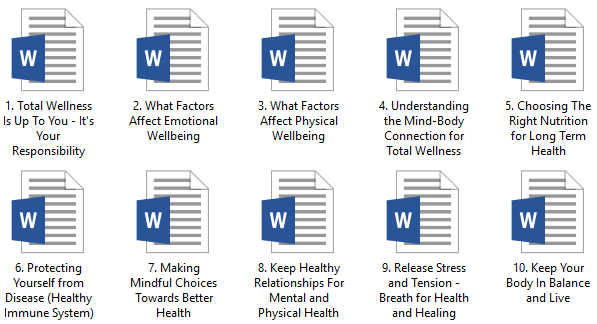 1. Total Wellness Is Up to You – It's Your Responsibility – 809 words
2. What Factors Affect Emotional Wellbeing – 895 words
3. What Factors Affect Physical Wellbeing – 687 words
4. Understanding the Mind-Body Connection for Total Wellness – 837 words
5. Choosing the Right Nutrition for Long Term Health – 784 words
6. Protecting Yourself from Disease – 769 words
7. Making Mindful Choices Towards Better Health – 849 words
8. Keep Healthy Relationships for Mental and Physical Health – 762 words
9. Release Stress and Tension – Breathe for Health and Healing 851 words
10. Keep Your Body in Balance and Live – 773 words
Totally Healthy You – Self Care Guide PLR eBook
The eBook that has been created from the articles, and is 49 pages, 8,803 words long! It is fully formatted and includes a table of contents with hyperlinked pages, a disclaimer, an introduction and a conclusion. If you don't want to make any changes, the PDF is ready to go! The PLR ebook is also fully illustrated with our beautiful social posters, which are created from royalty free, commercial use images.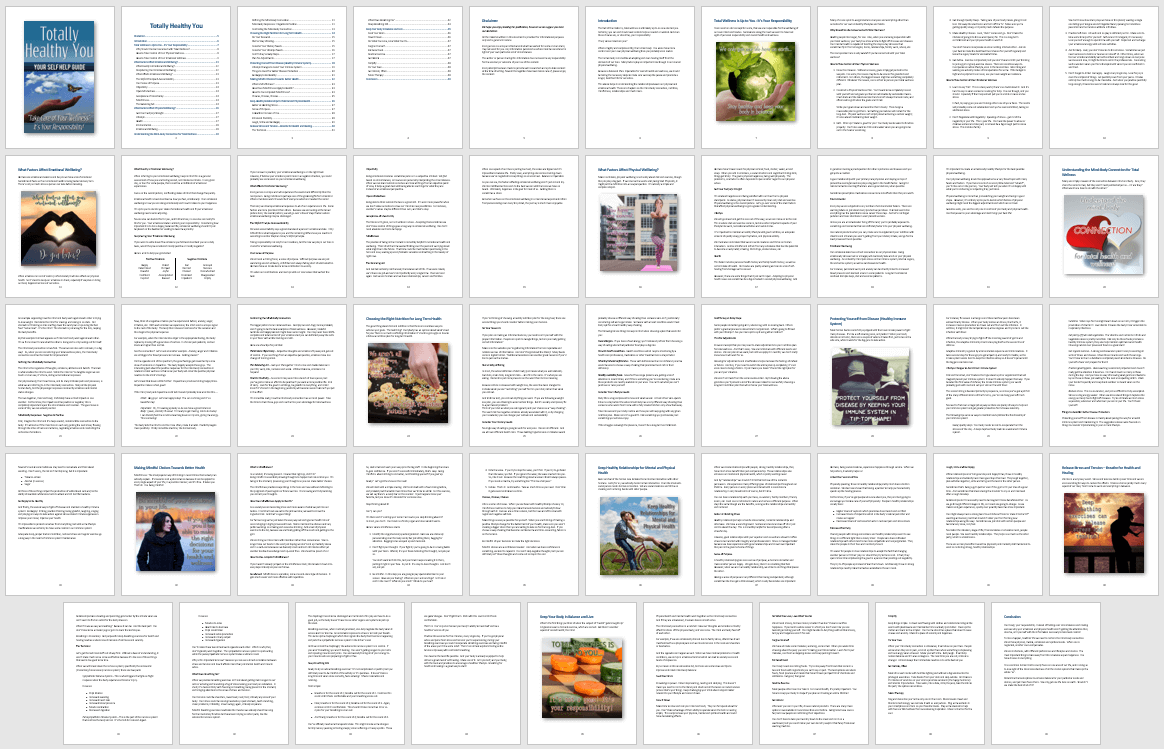 eCover Graphics Plus PSD File
High quality and professionally designed ecover graphics. Different styles to suit your own personal needs. You also receive the PSD file if you would like to make any edits.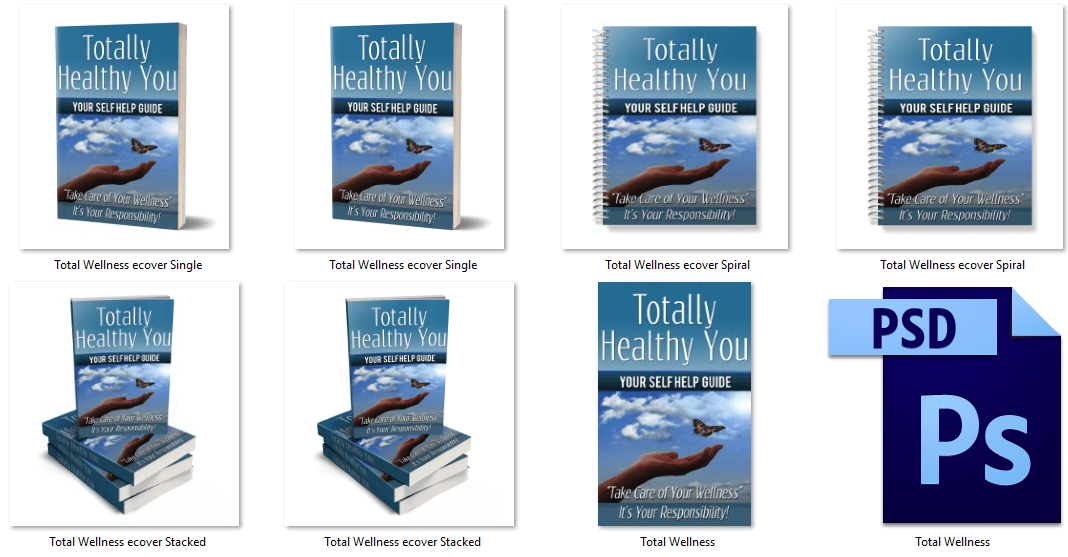 Wellness PLR Social Posters
Social posters get shared and create traffic to your site! You'll receive 10 social posters, one for each article, plus you'll receive the PSD files so you can edit them if you so desire.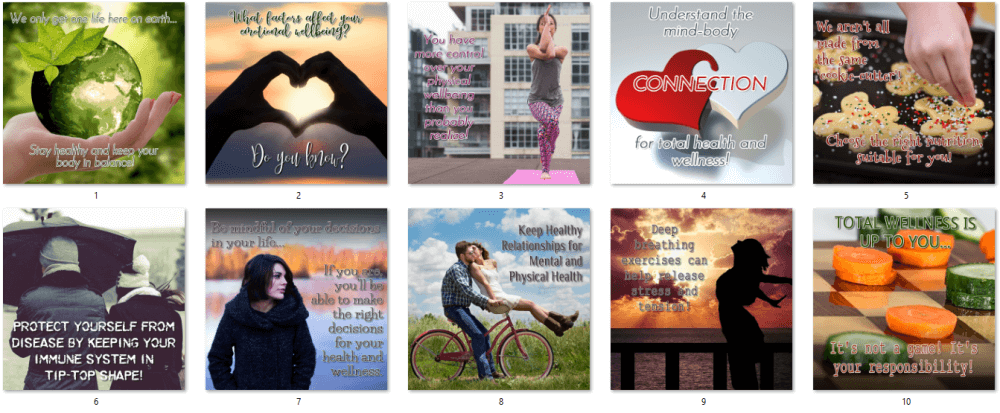 4 Full-Size Infographics
We've created 4 infographics on 7 ways to improve your: 1) 'Mental Wellness 2) Personal Growth 3) Physical Wellness and 4) Spiritual Growth.  These types of infographics are what you would expect to see on authority websites. Now you can be seen as an authority too! They're perfect for using in your websites and getting shared on social media.


Excellent value for high-quality private label rights content! It's all done for you and ready to use right now!
ONLY $37