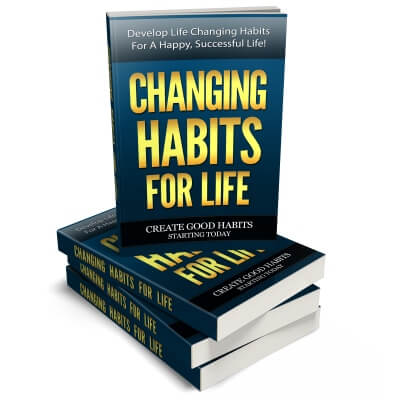 This 'Life Changing Habits PLR' package will help people develop life changing habits to turn their life around, into a happier and more successful one. This pack includes articles, an ebook, ecover graphics, social posters and more. Check the article titles (and word counts) below to see what's covered in this pack!
Life Changing Habits PLR Pack Includes…
10 high quality articles in text and Word doc files.
All articles professionally written and edited.
For those who love ebooks, we have created an ebook for you from the articles in this pack.
Beautifully formatted.
Illustrated with our designed social posters, which are royalty free, commercial use images.
eCover graphics in 4 different layouts, including a 3D stack. The PSD file is included for editing.
10 professionally designed social posters, plus PSD files! Beautiful typography and photographs.
People won't be able to resist sharing your posters. Just add your URL and enjoy going viral!
Full-size infographic! Be an authority in your niche!
Life Changing Habits PLR Articles
All articles are professionally written and edited! We only provide quality content you can be proud to call your own. We know exactly what's in our packages, because we personally package it for you!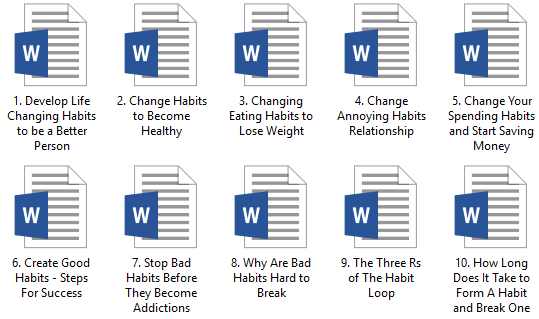 1. Develop Life-Changing Habits to be a Better Person – 847 words
2. Change Habits to Become Healthy – 853 words
3. Changing Eating Habits to Lose Weight – 833 words
4. Change Annoying Habits in Your Relationship – 887 words
5. Change Your Spending Habits and Start Saving Money – 966 words
6. Create Good Habits – Steps for Success – 824 words
7. Stop Bad Habits Before They Become Addictions – 786 words
8. Why Are Bad Habits Hard to Break – 991 words
9. The Three R's of the Habit Loop – 806 words
10. How Long Does It Take to Form A Habit and Break One – 777 words
Changing Habits for Life PLR eBook
The eBook that has been created from the articles, and is 48 pages, 9,430 words long! It is fully formatted and includes a table of contents with hyperlinked pages, a disclaimer, an introduction and a conclusion. If you don't want to make any changes, the PDF is ready to go! The PLR ebook is also fully illustrated with our beautiful social posters, which are created from royalty free, commercial use images.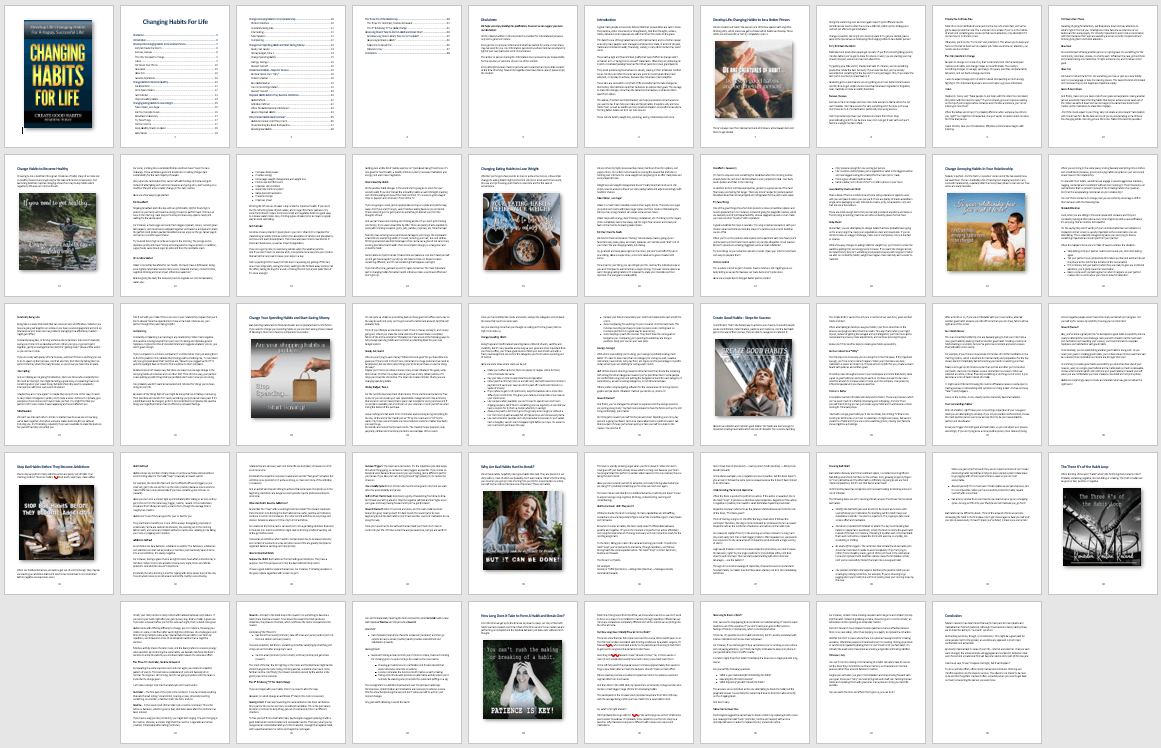 eCover Graphics Plus PSD File
High quality and professionally designed ecover graphics. Different styles to suit your own personal needs. You also receive the PSD file if you would like to make any edits.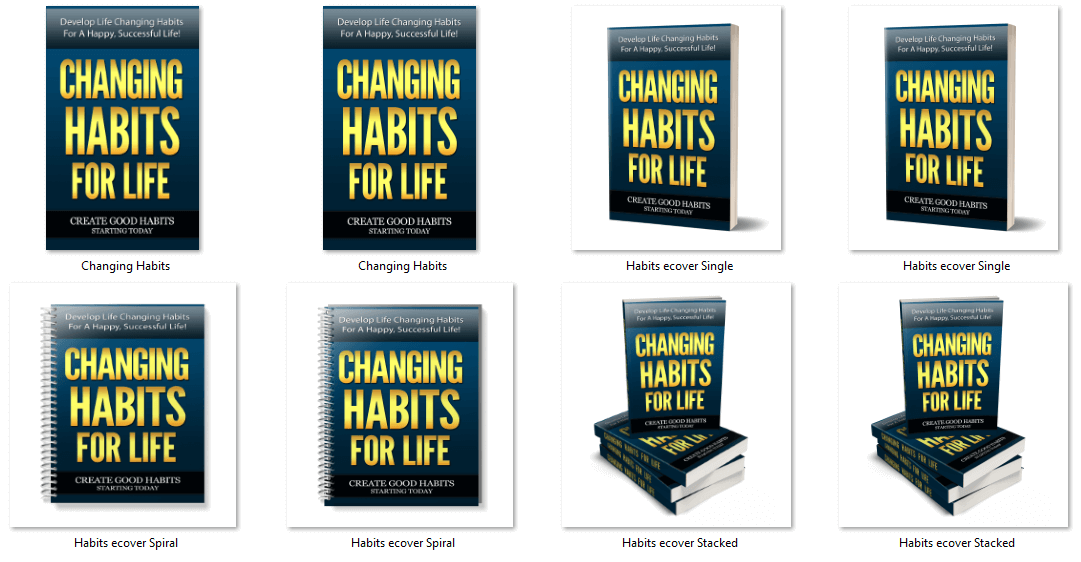 Changing Habits Social Posters
Social posters get shared and create traffic to your site! You'll receive 10 social posters, one for each article, plus you'll receive the PSD files so you can edit them if you so desire.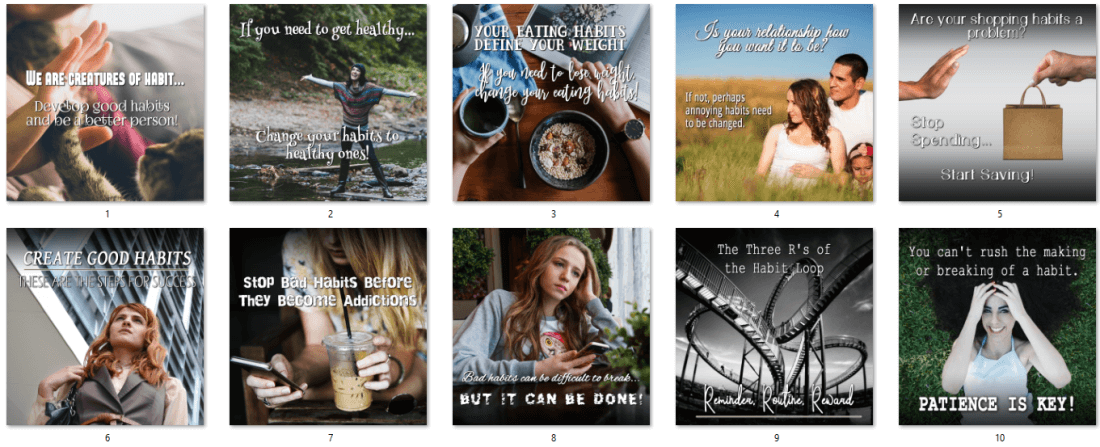 3 Full-Size Infographics
These types of infographics are what you would expect to see on authority websites. Now you can have them too! They're perfect for using in your websites and getting shared on social media.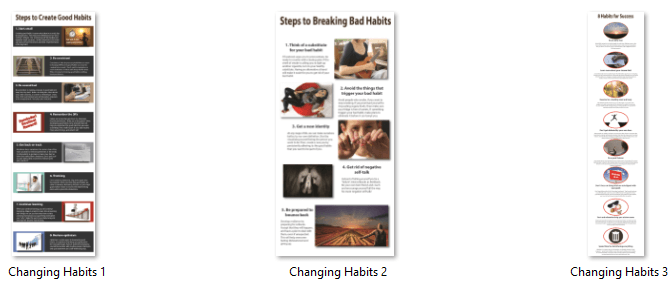 This package is ready to use as your own right now! Our high-quality PLR content will excite you!
ONLY $30