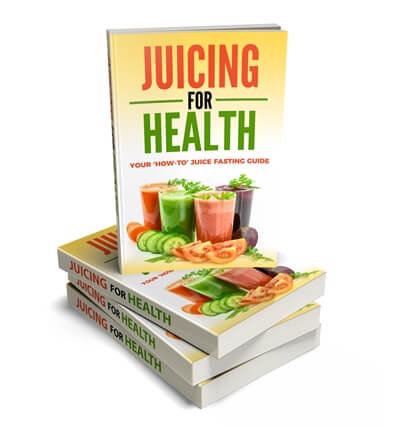 Juicing and juice fasting has become extremely popular with the health and diet-conscious mindset.
This done-for-you package includes high quality content you can use as your own. The graphics are professionally created and the content well-researched and written.
Juicing PLR Package Includes…
10 high quality articles in text and Word doc files.
All articles professionally written and edited.
For those who love ebooks, we have created an ebook for you from the articles in this pack.
Beautifully formatted, complete with a table of contents.
Illustrated with royalty free, commercial use images.
eCover graphics in 4 different layouts, including a 3D stack. The PSD file is included for editing.
10 professionally designed social posters, plus PSD files! Beautiful typography and photographs.
Full-size infographic, measuring 800px x 3,610px!
BONUS – 20 smoothie and superfood social posters!
Juicing PLR Articles – Titles and Word Counts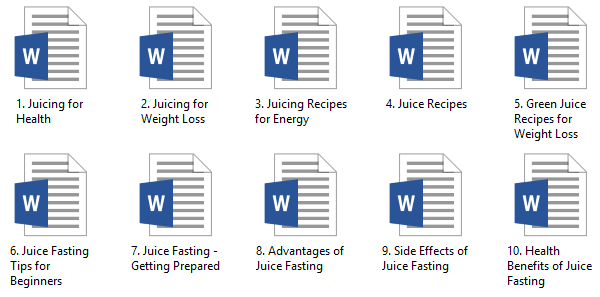 10 professionally written, high quality articles. Available in text and word files.
Juicing for Health – 534 words
Juicing for Healthy Weight Loss – 534 words
Juicing Recipes for Energy – 523 words
Juice Recipes – 600 words
Green Juice Recipes for Weight Loss – 532 words
Juice Fasting Tips for Beginners – 603 words
Juice Fasting – Getting Prepared – 555 words
Advantages of Juice Fasting – 559 words
Side Effects of Juice Fasting – 564 words
Health Benefits of Juice Fasting – 644 words
eBook and Cover Graphics – Juicing for Health
We've created the ebook from the articles in this package. This will save you hours of work! The ebook is formatted and the disclaimer, introduction and conclusion, all done for you. A table of contents is included, with hyperlinked pages. It is fully illustrated with commercial use, royalty free images. The total word count is 6,460 words and 36 pages.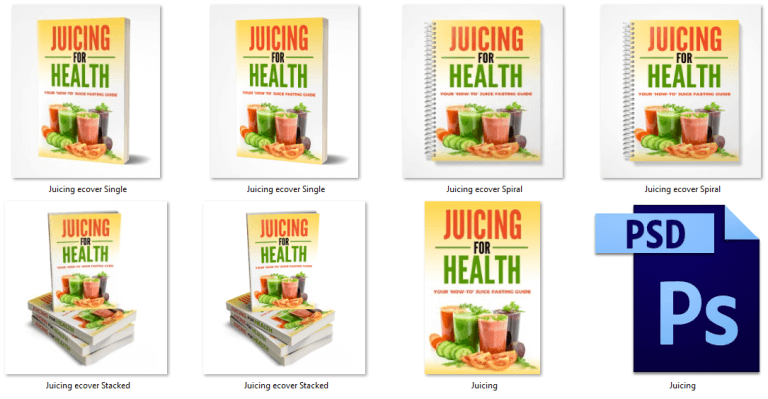 eBook Contents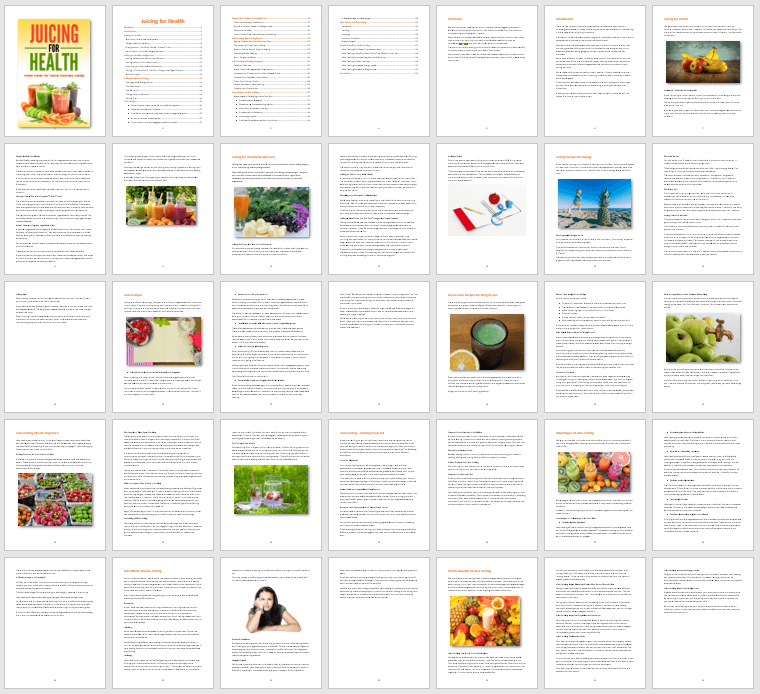 10 Juicing PLR Social Posters
These are just gorgeous! Each one goes with one of the articles to complement your content! These social posters can be used on all the social media sites and/or on your website! You will receive the images in JPG and PNG formats. Plus, you'll receive the 10 editable PSD files.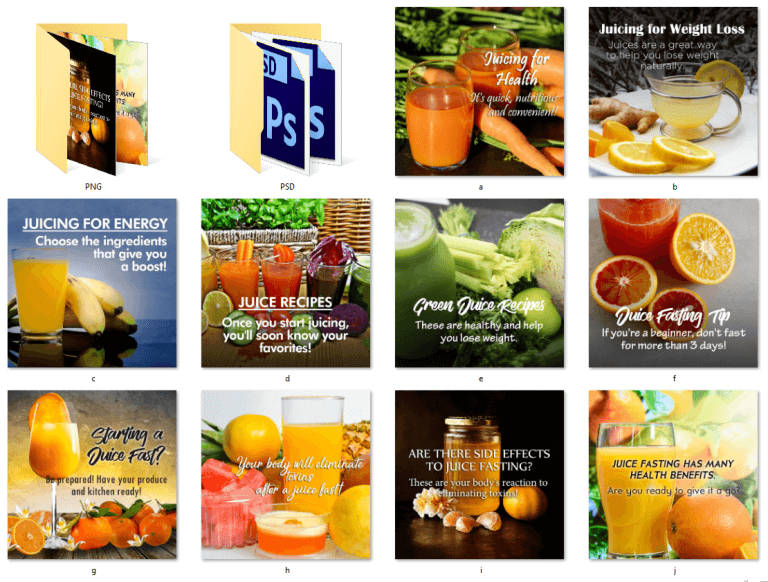 Juicing PLR infographics
Our infographics are ones authority websites use! They are not little by any means! We wish we could show you the size…but here's a snippet of what they are like. The full-sized infographic is: 800px x 3,610px! It has been designed to create another 5 infographics you can use as extra social posting bait! People love sharing infographics and social posters. 😀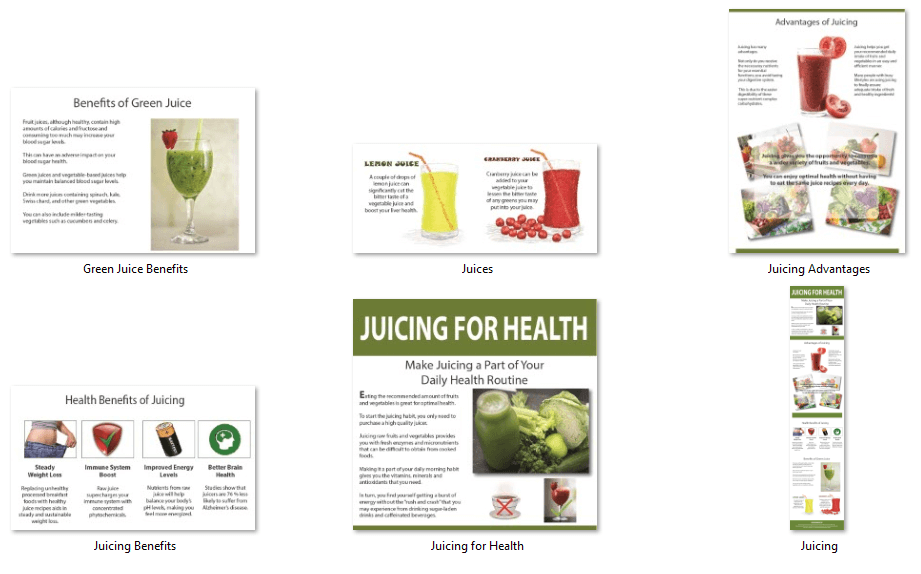 BONUS – 20 'Smoothie & Superfood' Social Posters
We've also created 20 beautiful social posters to enhance and showcase your content on smoothies and superfoods. These images are super shareable, which is what you want and need. People share pretty, eye-catching foodie type images, so if you are in the diet niche, these posters will prove to be an asset in your business. Now you beautify your content with these 20 posters and give any of your smoothie or superfood articles a 'powerfood super boost!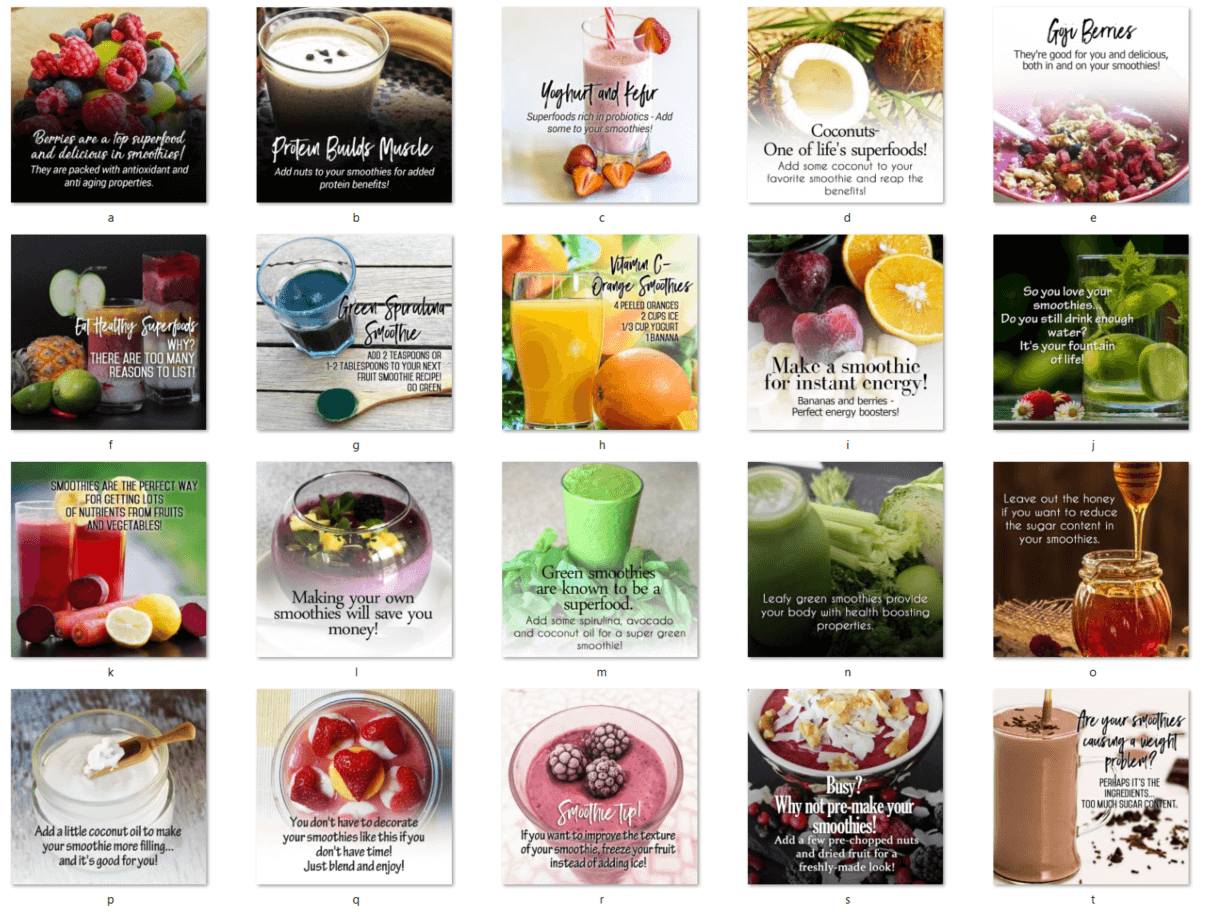 You'll receive the 20 social posters in JPG and PNG formats, plus you'll receive the editable PSD files. This allows you to add your own URL or edit the text if you so desire. Now is the time to make your new or old blog posts come alive with these eye-catching graphics and help them get shared over and over again. Watch your website visitor numbers increase when you do!

This juicing PLR package is incredible value as we are sure you can see by now!
ONLY $37