This Bulimia Nervosa PLR package includes articles, social posters, social media snippets and professionally created infographics. If you are a health professional you will be able to help your website visitors understand this eating disorder. You can see what's covered in this package by the article titles below. Here's what's included…

Bulimia Nervosa PLR

Bulimia Nervosa PLR Articles
You will receive 10 well-researched, professionally written and edited articles. These articles are high-quality and you will be proud to use this content.
Provided in text files and word doc formats.

Social Media Snippets
You will also receive social media snippets to easily share your published content on any platform, such as Facebook or Twitter. Copy the snippet then paste, and don't forget to add your website link.

Social Posters
Eye-catching social posters. Each one has been created to complement an article in the pack provided. You don't have to find the right image to use with your content! We've done it all for you. Web-ready files are ready to use, plus the editable PSD files are included.

Infographics
Infographics are shown on many authority websites. Now you can be seen as an authority in your niche. The full-size infographic has been designed to provide a further 4 mini-infographics, giving you more chances to share and be seen.

Bulimia Nervosa PLR Articles
Professionally written and edited articles. They cover the symptoms and signs, the effects on the body, and more. You will receive the text files and word docs to these high-quality articles.
Bulimia Nervosa – 649 words
Bulimia Signs and Symptoms – 532 words
Bulimia and Brain Function – 629 words
Bulimia Treatment Options – 615 words
Non-Purging Bulimics – 559 words
Bulimia and Stomach Problems – 560 words
Bulimia and Oral Health – 494 words
Bulimia Effects on The Body – 624 words
Bulimia Nervosa Vs Binge Eating Disorder – 592 words
Bulimia Nervosa – Preventing Relapse – 729 words

Bulimia Nervosa PLR Social Posters
Finding images for bulimia nervosa is a challenge. It's a sensitive subject and you want to portray the right message. However, you don't have to find the images! We have done the hard work for you and created these posters from commercial use, royalty-free images. They are eye-catching and will help you get lots of shares. Provided in JPG, PNG and PSD editable file formats.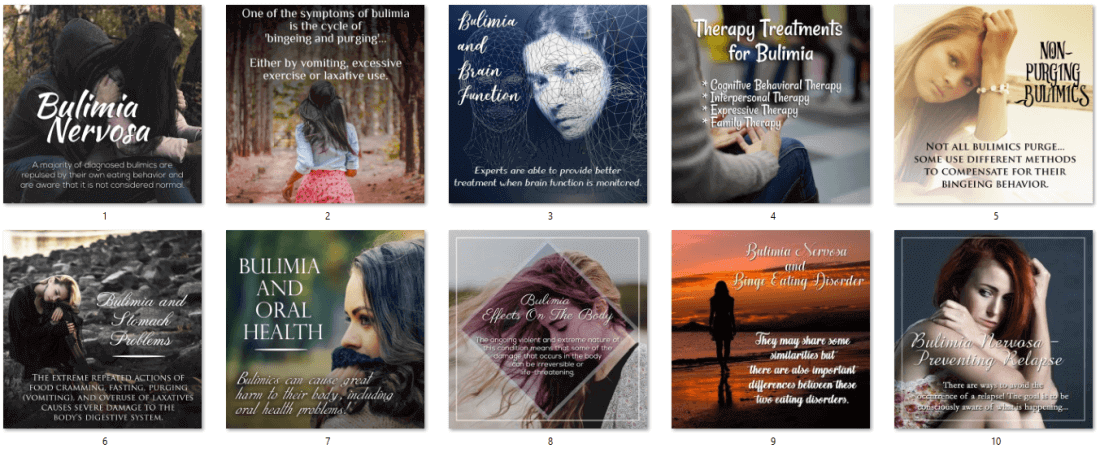 Social Media Snippets
We've provided the social media posts for you. Each one complements an article and its social poster in this package, so you can share as soon as you publish your content.


Bulimia PLR Infographics
The full-size infographic has been designed to provide a further four infographics. The full size infographic measures 1,000px x 6,485px. Health Consequences of Bulimia, measures 1,000px x 1,641px. Binge and Purge Cycle, measures 1,000px x 915px. Characteristics of Bulimia Disorder, measures 1,000px x 1,785px.


This high-quality content is ready for you to use and brand as your own. Done-for-you, high-quality white label content. Now you are able to help your website visitors understand this eating disorder!
Only $27

We also have other eating disorder content, including Anorexia Nervosa PLR and Binge Eating PLR. We have many others too, which you can view in our private label rights store.
Only $27