Bodywork Therapies PLR
Bodywork therapies and massage therapies, are alternative health and healing, which many people love, including us! This PLR package covers 10 top bodywork therapies.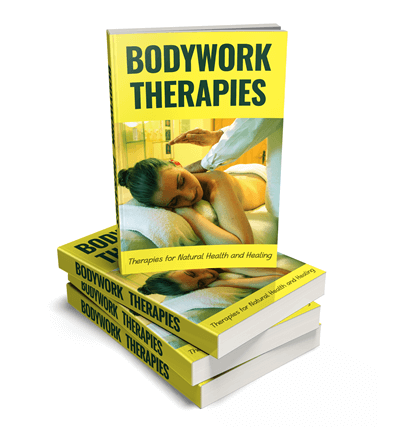 Geoff and I use many of these therapies for our own health and healing. We regularly give each other a Bowen therapy session at home. (Our Bowen therapist showed us what to do!) We are firm believers in natural health and healing, so it is with great pleasure we are providing you with our bodywork therapies PLR package!
This packages includes articles, and ebook created from the articles, ecover graphics, an infographic and social posters! It's a complete package with beautiful graphics and well-written content.
10 high quality articles in text and Word doc files.
All articles professionally written and edited.
For those who love ebooks, we have created an ebook for you from the articles in this pack.
Beautifully formatted.
Illustrated with royalty free, commercial use images.
eCover graphics in 4 different layouts, including a 3D stack. The PSD file is included for editing.
10 professionally designed social posters, plus PSD files! Beautiful typography and photographs.
People won't be able to resist sharing your posters. Just add your URL and enjoy going viral!
Full-size infographic! Be an authority in your niche!
10 Bodywork Therapy PLR Articles

Alexander Technique – 'Relieves Stress and Tension Through Movement' – 504 words
Bowen Therapy – Holistic Treatment to Help Your Body Heal – 554 words
Craniosacral Therapy Benefits The Mind and Body – 559 words
Feldenkrais Method – Changing Movement Patterns For Health – 548 words
Hellerwork – Powerful Massage Method to Relieve Pain and Tension – 525 words
Reflexology Benefits Your Overall Health – 536 words
Rolfing – A Structural Integration Method to Realign the Body – 509 words
Shiatsu – Helps Body Function and Relieves Stress – 482 words
Trager Approach – Trager Work Reawakens the Body and Mind – 530 words
Trigger Point Therapy – Eases Tension and Referred Pain – 590 words
eBook – Bodywork Therapies
We've created an ebook from the 10 articles above, so if you prefer an ebook…you've got it! Includes a disclaimer, introduction and a conclusion. Table of contents added and hyperlinked pages. Beautifully illustrated with the social posters – all royalty free and available for commercial use. 6,138 words and 37 pages. Take a look…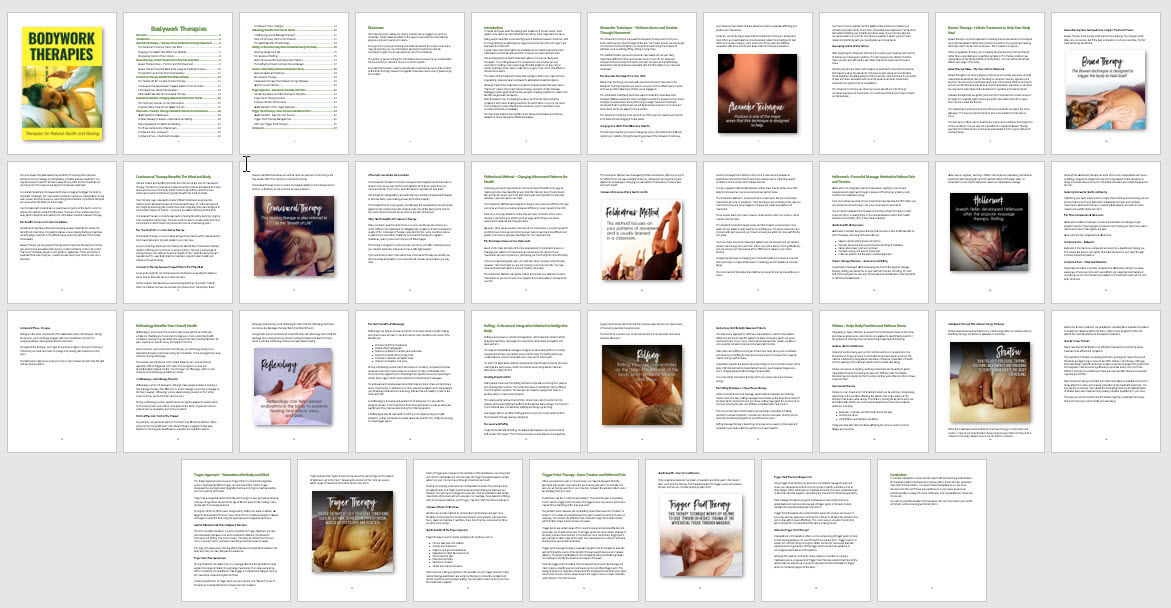 Professionally Designed eCover Graphics
Plus you get great graphics for the ebook we've created for you. eCover graphics in different formats – PNG and JPG. Provided PSD file for editing. eCovers in different styles.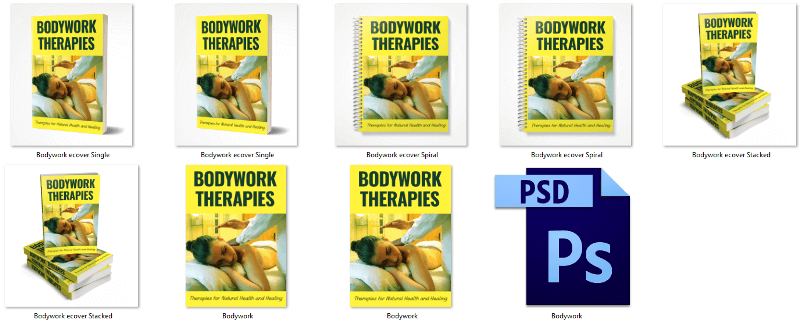 Super-Sized Infographic – 10 Different Bodywork Therapies
This infographic measures 800px x 6,847px. Our infographics are not little…they're huge! They've been created so that you have another 10 mini-infographics too. Use them for slideshows, video, blog posts, social media…whatever you want!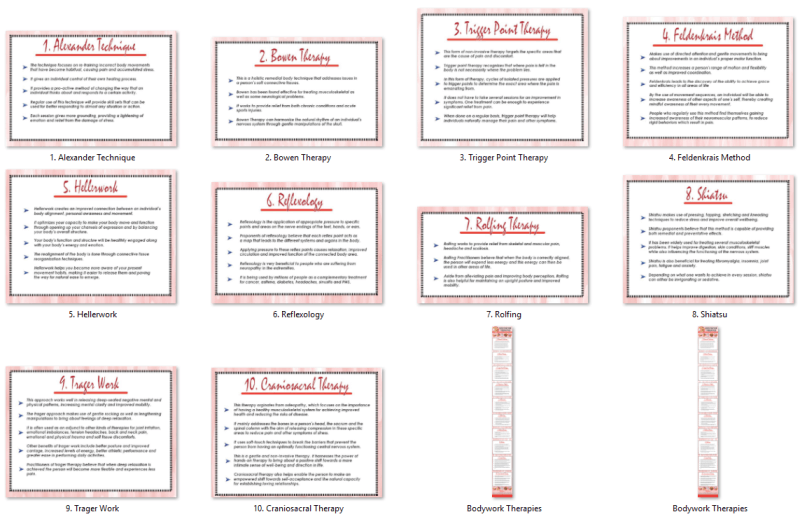 Bodywork Therapy PLR Social Posters
These social posters have been created for the articles in this package! All posters come with an editable psd files and are provided in JPG and PNG formats. All photographs are royalty free and are suitable for commercial use.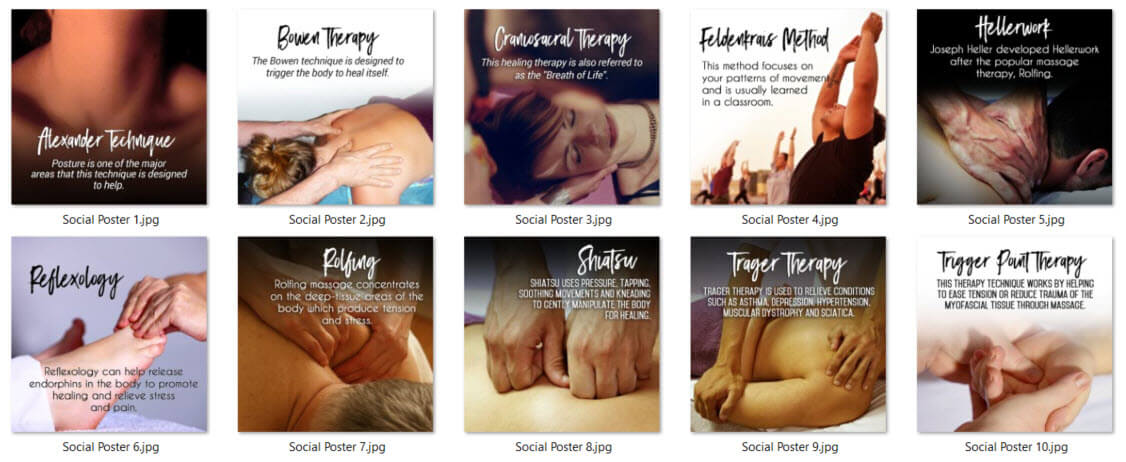 We're sure by now you can see the value we've added to this amazing package!
ONLY $30