This 'Entrepreneurial PLR – Controlling Your Own Destiny' package is filled with high-quality content! It includes a report, 20 articles… and they're not short articles… and more!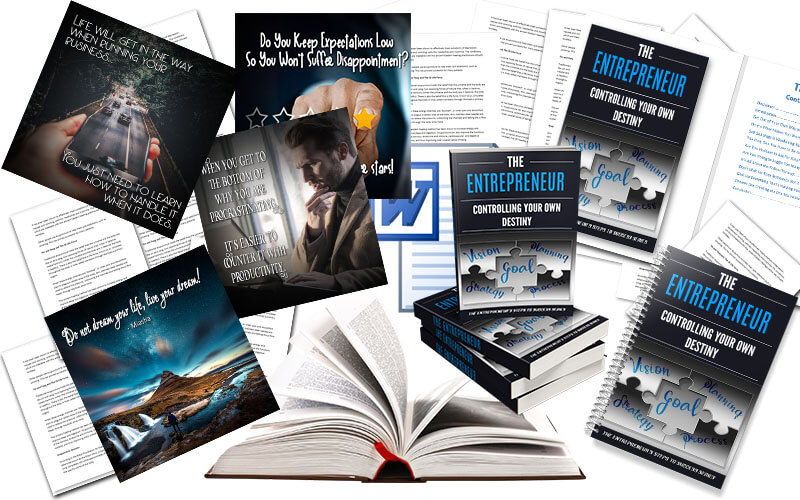 'The Entrepreneur – Controlling Your Destiny' PLR Package
All Brand NEW Content!

You'll receive a Report, eCover graphics, 20 articles and 20 social posters!
'The Entrepreneur' PLR Report
'The Entrepreneur – Controlling Your Own Destiny' PLR report helps you take control and get things done! The report is all new content, and is 24 pages, 4,322 words long! It is fully formatted and includes a table of contents with hyperlinked pages, a disclaimer, an introduction, and a conclusion. The report is fully illustrated with royalty free, commercial use images.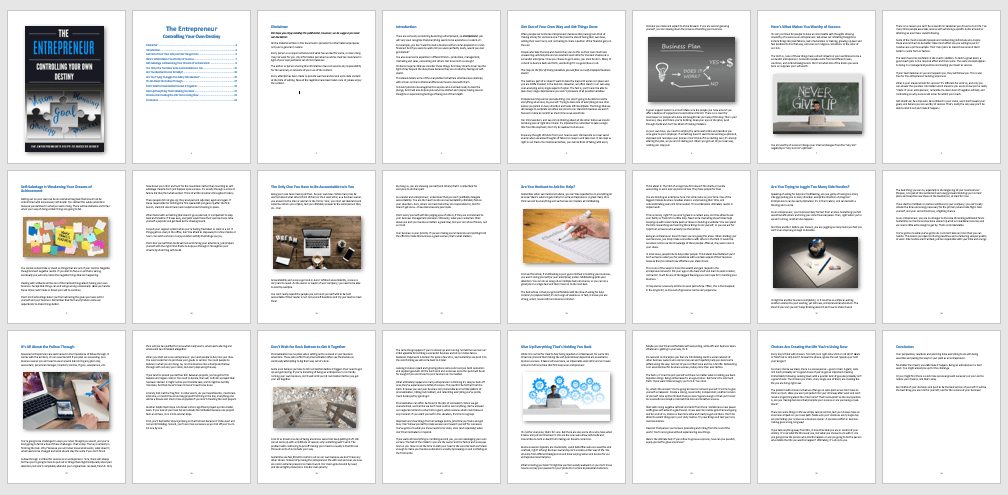 Here's the table of contents, so you can see what's in the report…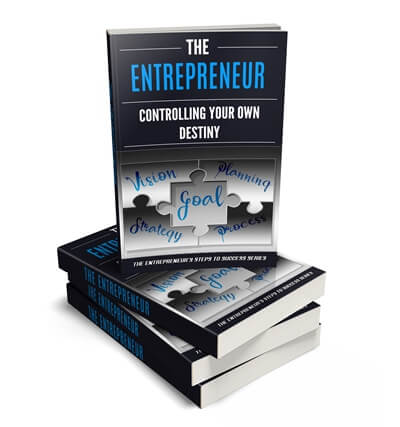 Introduction
Get Out of Your Own Way and Get Things Done
Here's What Makes You Worthy of Success
Self-Sabotage is Weakening Your Dreams of Achievement
The Only One You Have to Be Accountable to is You

Are You Hesitant to Ask for Help?

Are You Trying to Juggle Too Many Side Hustles?

It's All About the Follow Through

Don't Wait for Rock Bottom to Get it Together

Give Up Everything That's Holding You Back

Choices Are Creating the Life You're Living Now

Conclusion
eCover Graphics
Plus, we've created high quality, professionally designed eCcovers for you. There are four different formats to suit your own personal needs. You also receive the PSD file in case you would like to make any edits.
20 'Entrepreneurial Success' PLR Articles

All our articles are professionally written and edited and we pride ourselves in providing high-quality content. These articles are NOT the ones in the report… they are entirely different and ALL NEW articles!


Failure in Other Areas of Your Life Doesn't Mean You'll Fail as an Entrepreneur – 767 words
Start Your Career as an Entrepreneur Before You're Under Pressure – 862 words

You Never Want to Be a Jack of All Trades and a Master of None – 785 words

Develop a Plan to Rev Up Your Energy and Motivation as a Leader – 773 words

Do You Need Dedication or Direction – 801 words

Do Your Finances Make You Paralyzed with Fear in Your Business – 526 words

Don't Settle for a Soul-Sucking Job – 585 words

How Do You Deal with Disapproving Family Members as You Grow Your Business – 808 words

When Life Gets in the Way of Running Your Business – 800 words

Get to the Root of Why You Keep Procrastinating – 781 words
Stop Beating Yourself Up for Lack of Success and Move Forward – 773 words

Are You Suffering from a Bout of Learned Helplessness – 590 words

Learn How to Cheer Yourself on as You Grow Your Business – 814 words

Perfection Is the Enemy of Progress – 527 words

Are you Apathetic About Your Success – 873 words

Don't Let Boredom Sabotage Your Efforts for Success – 540 words

Reboot Your Journey to Success by Learning New Things – 744 words

Why is it You Only Work Hard for Others and Not for Yourself – 801 words

Don't Let One Sour Experience Spoil Your Enthusiasm for an Online Career – 691 words

Do You Keep Expectations Low So You Won't Suffer Disappointment – 667 words
Professionally Designed Social Posters
Social posters are a must for your business. Why? People love to share gorgeous graphics and that's what we have created for you. You can post these on your website and share to your favorite social media platforms. You'll receive 20 social posters, one for each article in this package, plus you'll receive the PSD files so you can edit them if you so desire. These posters have been created using royalty free, commercial use licensed images.
By now we're sure you can see the amazing value in this package! We provide high-quality content and you won't be disappointed!
ONLY $47
Just click the button below to instantly receive this incredible offer!