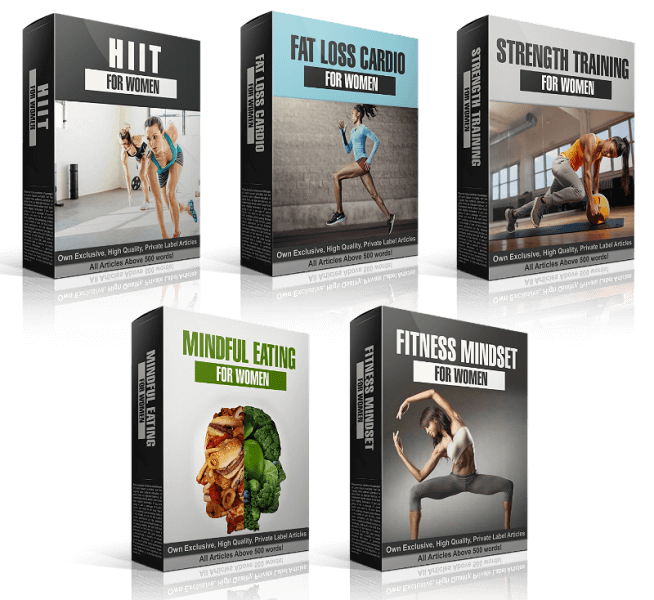 Arun Chandran has just released a 'Women's Fitness' PLR package which includes several different topics in the women's fitness niche.
It's a 25 pack of articles and all the articles are over 600 words… some of them are over 900 words!
5 Women's Fitness PLR – Bundle Topics
He covers the 5 following topics, with 5 articles in each topic.
HIIT for Women
Strength Training for Women
Fat Loss Cardio for Women
Mindful Eating for Women
Fitness Mindset for Women
25 Women's Fitness PLR Articles
These are the article titles and word counts…
4 Ways Women Can Incorporate HIIT in Their Workouts (717 words)
Discover Why HIIT is So Effective for Women Struggling to Lose Weight (676 words)
HIIT Splits and Training Different Muscle Groups for a Toned and Sexy Body (712 words)
How to Structure an Effective HIIT Workout (669 words)
Steady State Cardio vs. HIIT. Which is Better for Women? (807 words)
6 Reasons Why Walking is Great for Women (712 words)
Cardio Workouts That Women Can Do at Home (565 words)
Discover Why Overdoing Cardio Makes Women Gain Weight (844 words)
How Women Can Accelerate Fat Loss by With These 5 Cardio Tips (789 words)
What Types of Cardio are Best for Women? (751 words)
4 Principles to Toning and Sculpting a Bikini Body with Resistance Training (735 words)
Discover the Benefits of Strength Training for Women (664 words)
How Women Can Build Their Own Effective Weight Training Workout Routine (950 words)
How Women Can Use Resistance Training to Tone and Strengthen Their Upper Body (615 words)
What Type of Weight Training is Best for Women to Tone Their Butt and Legs (724 words)
How to Apply the Principles of Nutrition to Your Mindful Eating (929 words)
Knowing the Difference between Emotional Hunger and Real Hunger (725 words)
Mindful Eating 101: What Every Woman Should Know (899 words)
Mindfully Choosing Foods That Promote Fitness (803 words)
Tips to Eating Mindfully When You're at a Social Gathering (832 words)
Dealing With Muscle Soreness and Pushing Forward (632 words)
How to Overcome Inertia and Cope with Lethargy (847 words)
Is Exercise Making You Sick? (817 words)
Keeping Fit Through Menopause and Beyond (611 words)
Why Exercise Is Crucial to Making You Feel Good (791 words)
All this information is what your website visitors will love reading! Plus, there are many ways you can monetize this type of content. You can link to all sorts of affiliate programs…exercise books, exercise equipment, nutritional supplements and more. You can also make an ebook with all the articles or a report to give to your list! Your options are endless.
Resell Rights Too!
Now, if you are looking at opening your own PLR store… you can even buy this package and add it to your store! There is an option to buy the 'resell rights'. That means you can even sell it as PLR!
Arun always provides well-written content and he makes them very personable. You'll find this package a very handy one indeed! These women's fitness articles are well-written and are exactly what you need to fill up your blog/site, build a list, add value and boost your affiliate commissions.