Tiffany Lambert has created a fantastic 'Stress PLR' package, complete with 15 articles and 3 reports (a total of 30 pages of content) and we've created a big special bonus for you too! You'll receive 20 beautiful social posters to match Tiffany's articles and to add to your report content! Here's a sample poster… but you see them all below!
Here's what the package includes…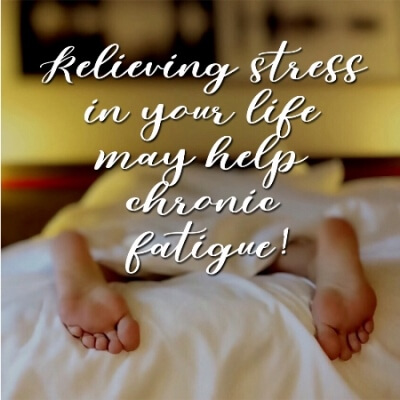 Stress PLR Articles
These 15 articles cover how stress affects your body, your moods and your behavior. In other words, how stress affects your physical health, emotional health and how it can change your habits.
5 "How Stress Affects Your Body" Articles
Stress Contributes to Pain in Your Body – 463 words
Your Sex Drive Can Be Erased from Too Much Stress – 487 words
Stomach Issues Arise Often from Chronic Stress – 478 words
Hair Loss Takes Root When Stress Sets in – 461 words
Energy Levels Plummet with Ongoing Stress – 461 words
5 "How Stress Affects Your Mood" Articles
Stress Can Makes You Feel Nervous and Anxious – 468 words
People Who Stress More Have a Hard Time Relaxing – 472 words
Lack of Motivation Is a Direct Result of Too Much Stress – 495 words
If You Lack Patience, Stress Relief Might Be the Solution – 475 words
Feeling Down Can Be a Thing of the Past When You Learn Stress Relief – 468 words
5 "How Stress Affects Your Behavior" Articles
Do You Turn to Drugs or Alcohol When Stress Sets In? – 475 words
Eating Issues Can Arise from Periods of Great Stress – 463 words
Have You Been in Hiding Because Social Stress Is Just Too Much? – 466 words
Exercise Avoidance Is Common with People Suffering from Stress – 492 words
The Blame Game Won't Help You Solve Your Stress Issues – 508 words
Stress PLR Reports
Each report is 5 pages, so you can use these as a gift to build your list, or you can use them as articles too! The choice is yours!
Report #1: Stress-Induced Insomnia Is a Brutal Cycle
This is a 5-page, 2,090-word report that starts with an introduction and then covers:
Causes of Stress-Induced Insomnia
Symptoms and Risks of Stress-Induced Insomnia
Treatments for Stress-Induced Insomnia
Prevention Techniques for Stress-Induced Insomnia
Report #2: A 2-Step Process to Heal from Mental Stress
This is a 5+ page, 2,150-word report that starts with an introduction and then covers:
Medical Issues that Could Be Causing Mental Stress
Signs of Medical-Related Mental Stress
Emotional and Lifestyle Causes of Mental Stress
Coping with Mental Stress
How to Prevent Mental Stress
Report #3: Handling Your Stress Is Crucial to Maintaining Your Relationships
This is a 5+ page, 2,104-word report that starts with an introduction and then covers:
How Stress Affects Your Behavior
How Stress Impacts You and Others
When Stress Strikes – Dealing with It
How to Maintain Boundaries Between Work and Personal Life

Our Stress PLR BONUSES!
As our bonus for this main offer, if you purchase Tiffany's PLR package through our link on this page, we're giving you these beautiful graphics. We've created 20 social posters. You'll find one for each article and then we've added another 5 bonus posters to use with the reports. Although, you can use them for both of course! You'll receive the JPG, PNG and editable PSD files.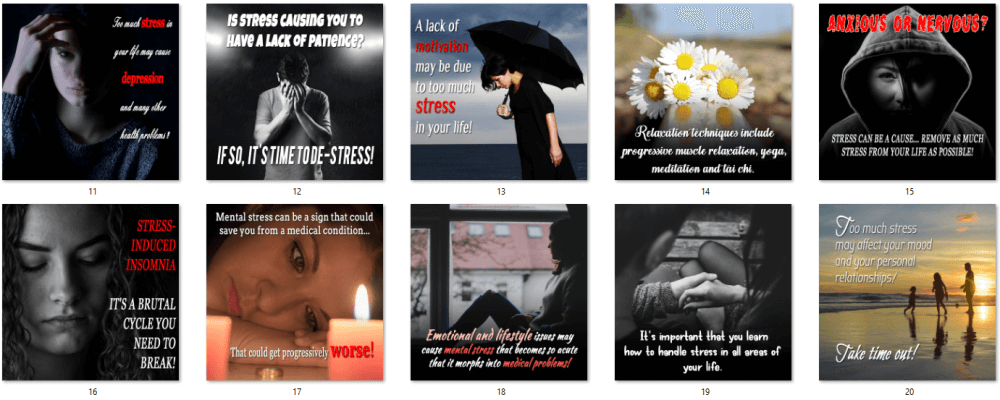 Upgrade Offer BONUS!
If you purchase the upgrade offer, we've got another 20 social posters for you! This is another huge package of 60 pages of content, which includes an eBook, 20 articles and 4 more reports! Here are the posters we've created for the 20 articles in this package…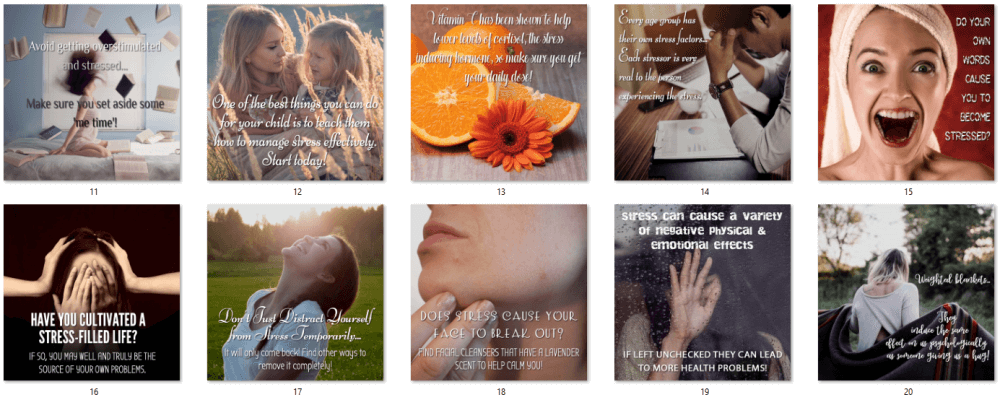 You'll find all our bonuses inside your 'Stress PLR' download area! Everything is waiting for you, so just click the button below!