This 'Personal Development PLR package by JR Lang, shows ways how to nurture your spirit to elevate your life and wellness. Plus, we're giving you bonuses to sweeten this already amazing deal! It's a huge package that covers how to achieve wellness of the spirit, which is key for enjoying quality of life and wellbeing.
Just take a look to see what this package includes… and check our bonuses below!
This Personal Development PLR package is of the highest quality, written with expertise and well researched. It includes a massive amount of content you can use to establish yourself as an expert in this niche. Take a look at what's included below… Plus, you'll receive all our bonuses if you purchase through our link!

JR's Personal Development 'Nurture Your Spirit PLR Includes…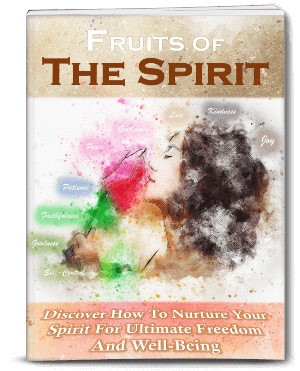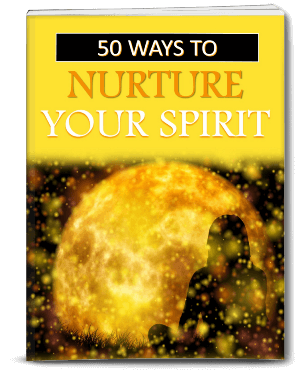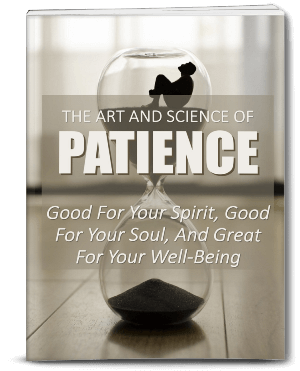 eBook: Fruits of the Spirit
– Editable eCover With 9 Different 2D and 3D Styles
– Copyright Free Images
– Sales Funnel – Sales Page Minisite, Sales Copy & Thank You Page
– Editable Sales Video
– Editable Sales Video With Pro Quality Voiceover
Report: 50 Ways To Nurture Your Spirit
– Editable Cover With 9 2D and 3D Designs
– Copyright Free Images
– Custom Squeeze Page
Report: The Art And Science Of Patience
– Editable Cover With 9 2D and 3D Designs
– Copyright Free Images
– Custom Squeeze Page
103 Extra Sales Page Graphics
7 Day Email Series – to Promote the eBook
28 x BRAND NEW New Personal Development PLR Articles
– WOW – That's Unbelievable!
4 Editable Infographics
– Editable Powerpoint, High Def
– Web Ready PNG and PDF
Editable Viral Images
– Easily Editable Powerpoint and High Def
– Web Ready PNG
– PDF Report Created From Images
40 Tweets/Tips Social Media Updates
40 Inspirational Quotes
Workbook – Nurturing Your Spirit
2 Editable High Quality HDVideos
– Editable Powerpoint Source Files
– Professional Voiceover
– DVD Cover Graphics
Editable Collage
– Easily Editable Powerpoint, PDF
– High Def Web Ready PNG
30 Day Challenge – To A Healthier Spirit
PLUS JR's Bonuses and Ours!
We've got bonuses for JR's main offer and her upgrade offer which all suit her packages perfectly!

Check Our 'Main Offer' Bonuses!
All Brand NEW Content!
Personal Power PLR Bonus for JR's Main Offer
You'll receive all brand new content we've created specifically for this brand new PLR offer! Included is a 2,888 word report, eCover graphics, 10 articles, 10 social posters, 2 infographics and an extra 40 quote posters!
Increase Your Personal Power PLR Report
This PLR report provides 10 tips on how to increase your personal power! The report is all new content, and is 16 pages, 2,888 words long! It is fully formatted and includes a table of contents with hyperlinked pages, a disclaimer, an introduction, and a conclusion. The report is fully illustrated, using royalty-free, commercial use images.
High quality and professionally designed ecover graphics. Four different styles to suit your own personal needs. You also receive the PSD file in case you would like to make any edits.
10 x Personal Power PLR Articles
All our articles are professionally written and edited and we pride ourselves in providing high-quality content. These are all brand new, never released before… and take a look at the word counts! They're between 700 words to 1,000 words long!
Do You Know If You Have Personal Power – 804 words
What Are the Five Personal Power Bases – 838 words
Difference between Personal Power and Positional Power – 775 words
How to Develop Personal Power to Achieve Your Goals – 901 words
An "Attitude of Gratitude" Gives You Power – Start Being Grateful – 984 words
See the Positive, Not the Negative, and Increase Your Personal Power – 812 words
Do You Feel Powerful or Powerless – 807 words
Is Willpower the Same as Personal Power – 732 words
Be Self Empowered – Love Yourself, Forgive Yourself and Be Happy – 729 words
Forget the Past, Focus on the Future and Keep Your Personal Power – 756 words
Professionally Designed Social Posters
Social posters are a must if you want to be seen! Why? People love to share gorgeous graphics, and as that creates awareness of you and your business, you'll also receive more traffic to your site. You can post these on your website and/or (we recommend both), share to your favorite social media platforms. You'll receive 10 social posters, one for each article in this package, plus you'll receive the PSD files so you can edit them if you so desire. These posters have been created using royalty-free, commercial use licensed images.

2 x Infographics
We're also giving you 2 infographics. The first one is on ways to develop your own personal power and measures 1,000px x 3,871px. The other infographic covers 8 signs you are a self-empowered person and measures 1,000px x 3,383px.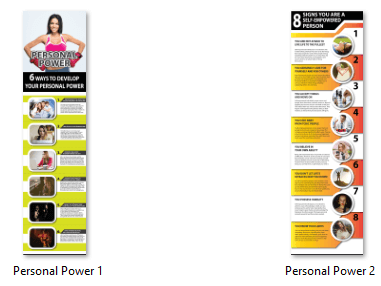 Added BONUS! 40 Social Quote Posters for JR's Quotes!!!
JR is giving you motivational quotes, so we've created 40 social posters for you to boost your article content with these beautiful graphics! You'll receive the JPG and editable PSD files. These posters have been created with royalty-free, commercial use licensed images.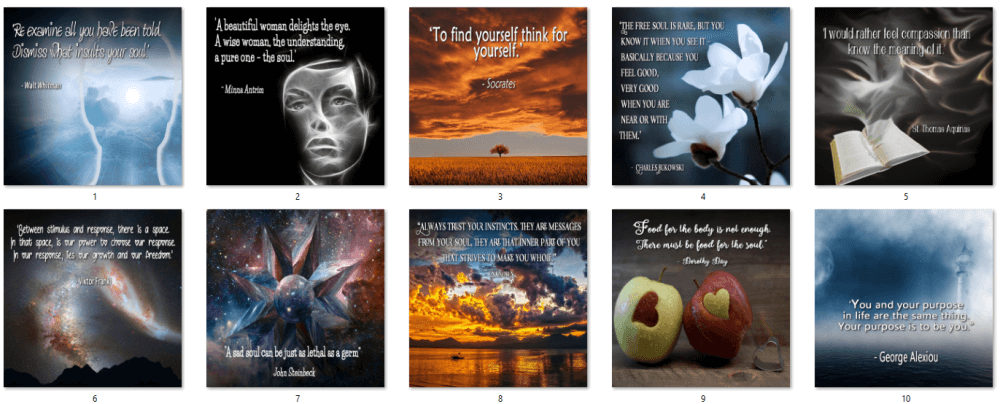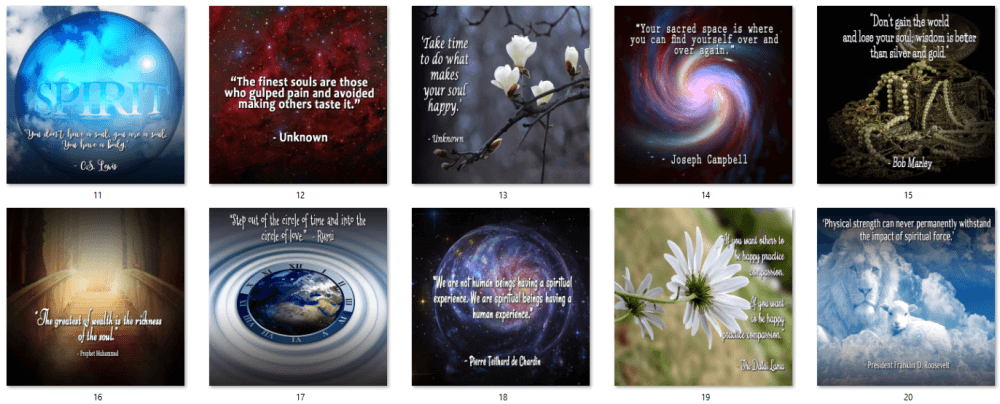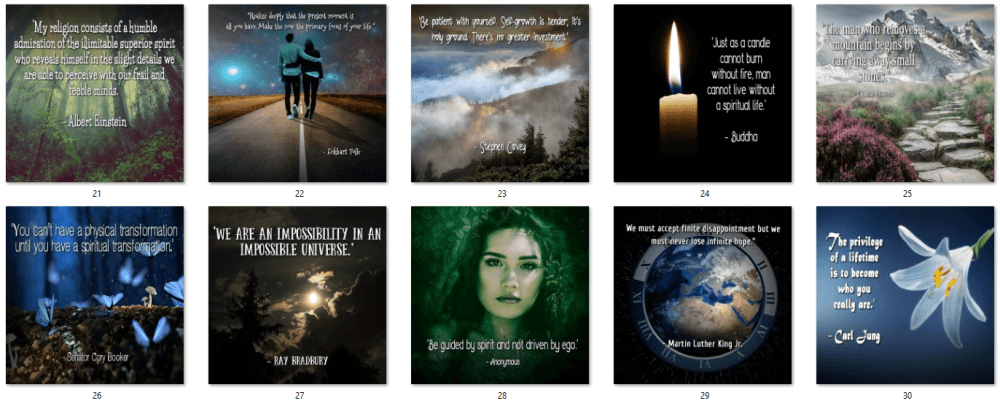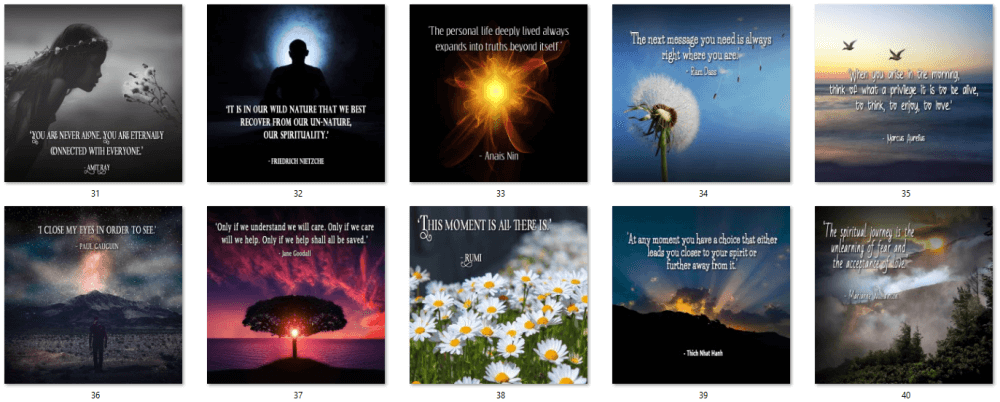 We hope you like these! We took ages choosing the images and creating them just for you! You'll also see below we created another 40 posters… that's a total of 100 posters in this offer! Images are necessary to be seen online. People love visual content and we provide the best we possibly can for you to use in your business.
This content will wow you and your website visitors!

Our Bonus If You Purchase JR's 'Upgrade' Offer
If you purchase the UPGRADE offer we'll give you another set of BRAND NEW 40 'Positive Thinking' quote posters! These are all new and suit the quotes JR is providing in her upgrade offer!
40 Quote Posters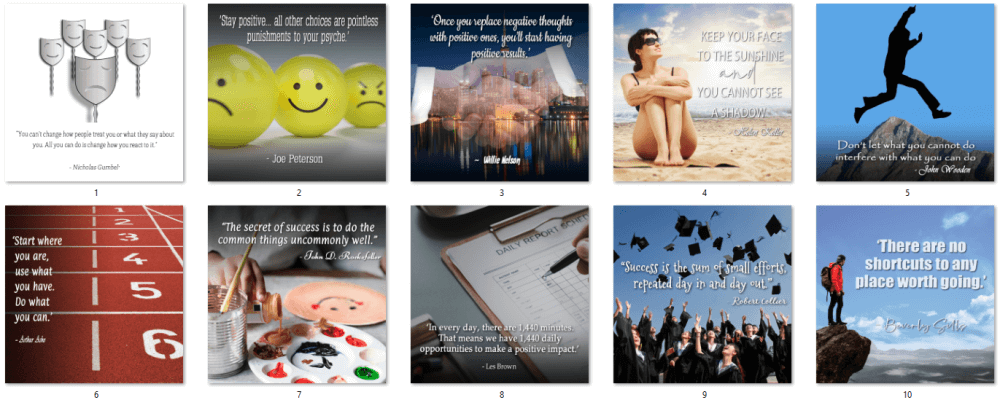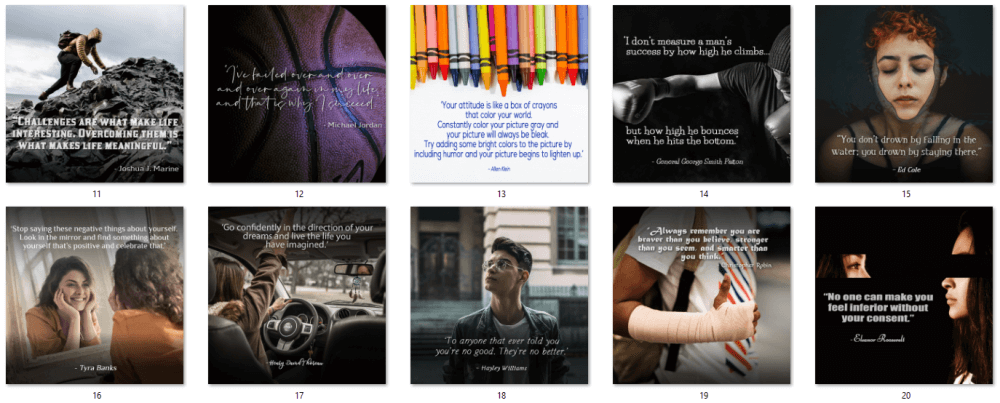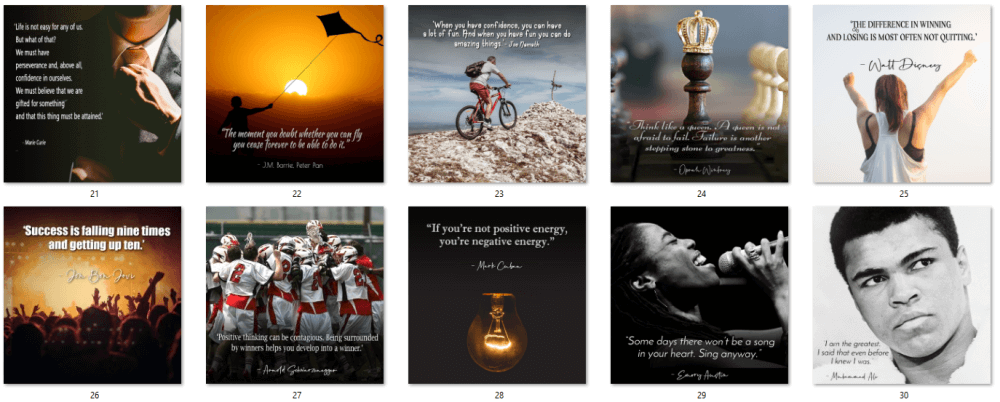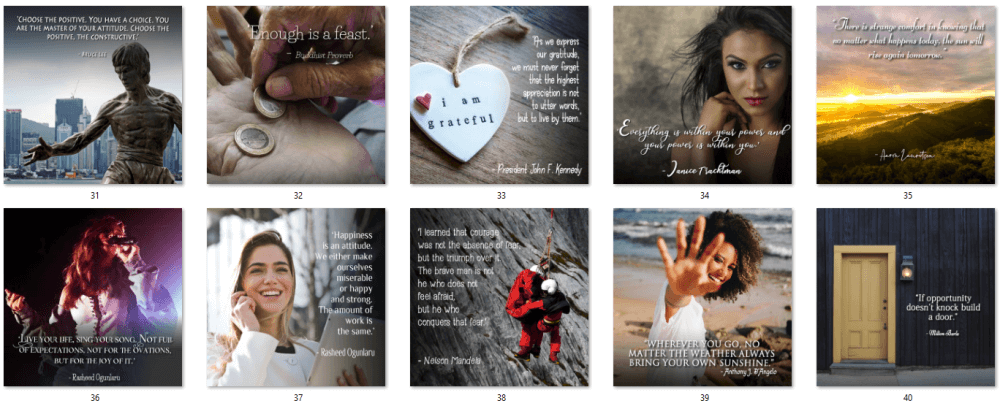 By now we're sure you can see the amazing value! So don't miss out on this offer and our amazing bonuses!
Just click the button below to instantly receive this incredible offer!