To have a great optin offer is important and this 'Personal Daily Planner Mega PLR pack is one of those offers! What I like about these planners, created by the PLR content expert Alice Seba, is that her team are not only providing 4 planners, they're also providing ecover graphics and landing pages!

You'll receive the code to 'copy and paste' into your WordPress post/page! (Just like I showed you how to do in our free training!)
Watch How Easy It Is To Setup Landing Page and Download Page

So who is this offer good for? Well if you're in the self help or personal development niche, or even if you simply just want to give your subscribers a wonderful gift to show them you care, then this is for you! There is one planner that really caught my eye. It's called"A Healthy Me". Now all our customers would love that! Right? Seriously, who wouldn't!?
Take a Look at One of The Personal Daily Planner PLR Packages!


4 Daily Planners PLR Mega Pack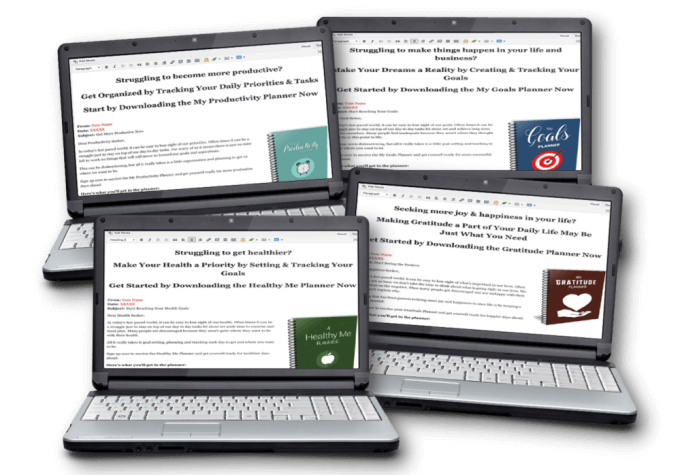 They contain inspirational quotes and help your customers work towards their own personal goals.
Productivity Planner
My Goals Planner
A Healthy Me Planner
My Gratitude Planner
As we talk about in every training session, and as all marketer's do… "The money is in the list."
That is the truest online statement ever…. that and 'Content is king!' 😉
However, so many people have trouble finding an offer that their customers will really appreciate, and in setting it up, however, Alice and her team have done the work for you.
If you would like us to, we will be happy to do a free training to show you how to do it… even though they've made it easy, you may still want a guiding hand.