If you're in the health and wellness market, you have probably heard of the lemonade weight loss diet called, 'The Master Cleanse Secrets'. Well now you can have the 'Master Cleanse PLR' complete package to sell as your own! It's all updated with great graphics and new sales page!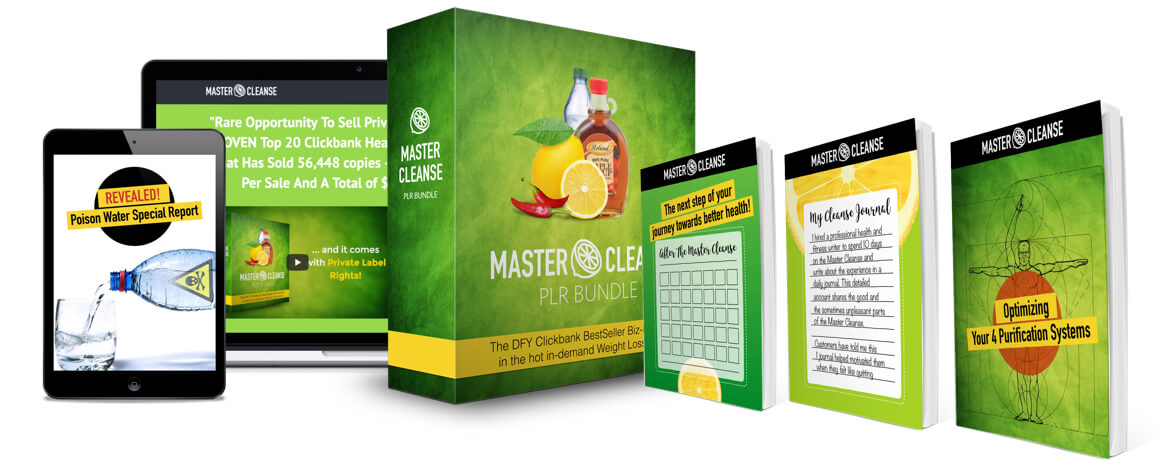 The Master Cleanse PLR Bundle
This is the complete Master Cleanse PLR Bundle that was sold on Clickbank for years! I used to promote it as an affiliate and my website customers loved it. The reason being it's a popular 10-day detox diet and one many celebrities have used. Beyonce Knowles was one as I recall. 🙂
It was one of the top 20 Clickbank health products that sold 56,448 copies and generated over 1 million dollars in sales… and now the owner is passing on the private label rights to his product. That's great news for you! Why? Simple! There are still people wanting to lose weight with this very popular weight loss diet.


It's a great offer without me going into lots of details… however, if you need a few details, here are some of the health and fitness niches the 'Master Cleanse Secrets' is perfect for. Plus, look at the monthly searches for 'Master Cleanse' or 'Lemonade diet'. As you can see people want to know how to do it!
Weight loss diets
Detoxing and cleansing
Beauty and rejuvenation, to rid the body of impurities
Internal cleansing of parasites
Natural fasting for health and cleansing.
There are lots of bonuses given by Chad and Nick! It's easier for you to go and look… I think you'll be pleased you did!