Essential Oils Private Label Rights Package
This essential oils private label rights mega package provides information on the natural healing benefits and uses of many popular essential oils. This is a topic that overlaps many niches, including alternative therapies and mental health. Aromatherapy, massage therapy, anxiety and depression niches regularly discuss the use of essential oils, in some form or another.
The healing benefits of essential oils as well as how to use them are explained in this package.
Our Essential Oils PLR Pack Contains
1. Articles in Word and Text files
2. eBook created from the 10 articles
2. eBook cover graphics
3. Professional infographic
4. Tweets
You will find our pack contains quality, well-researched content covering the healing benefits of essential oils. Plus, you will love the professional graphics! They are quality and it shows.
The infographic alone would cost more than this whole package, if you had one designed for yourself. Other bonus graphics include the eBook cover.
Essential Oils PLR Pack Description
10 Articles in 2 different file formats – Word and Text.
eBook created from the 10 articles in this pack, but formatted and illustrated for your convenience!
10 Tweets ready to use, just place your website link.
eBook cover, different styles, including a 3D design and PSD source file is included.
1 x Infographic. This is a full-size infographic! It's not a little meme. You would expect to see one like this on authority websites.
Full-Size Infographic – 800px x 3735px
You are going to be excited about the quality of this infographic. As we said earlier, this bundle is exceptional value for money, but our quality graphics make it unbelievable value! If you were to have these designed for you they would cost you quite a few hundred dollars.
Essential Oils Article Topics Include:
Essential Oils – 455 words
Storage Tips for Aromatherapy Essential Oils – 549 words
Essential Oils for Improving Health – 567 words
Essential Oils for Depression – 647 words
Antifungal Properties of Essential Oils – 522 words
Essential Oils for Respiratory Problems – 549 words
Essential Oils for Skin Care – 619 words
Health Benefits of Peppermint Oil – 493 words
Essential Oils for Headaches – 464 words
Lavender Essential Oil for Stress and Insomnia – 517 words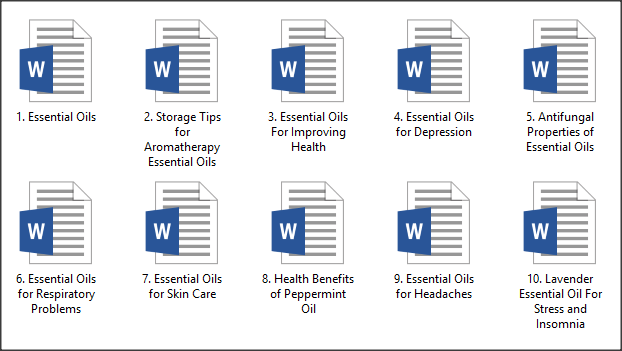 eCovers In Different Styles Plus Editable PSD File
This pack also includes ecover graphics. There is a flat design and also a 3D design. The PSD file is also included. You can use this graphic to create your own report out of the articles.
eBook Created from the Articles In This Pack!
We have created an ebook from the articles for those who would prefer an ebook. It has 5,865 words and 28 pages. Take a look at the formatting…
Essential Oil Tweets
To promote your articles on Twitter, we have also written 10 tweets to get your followers talking and clicking through to your website! You can also use them on Facebook to get your fans commenting and clicking through to your content.
Exceptional Value!
ONLY $20

How To Use Your Essential Oils PLR Package
Private label rights content has hundreds of uses and we intend to help you with helpful ideas to build your lists and promote your websites using our quality PLR. To give you ideas on how to use this pack, you can:
Post the articles on your website either as is or you can re-write them to suit your own 'voice' or personal style
Upload articles into your autoresponder to provide valuable information to your readers.
Create a report as an optin offer
Post snippets of articles to Facebook or other social media sites
You can read the content and record your voice to create podcasts
Hold a Google hangout and be an expert in your niche
Share the infographic to Pinterest and create traffic to your squeeze page
If you would like more ideas, just ask! There are hundreds of ideas and these are just a few!
You are only limited by your imagination…
but if your imagination fails, we are here to help you!
Buy Now For Only $20