This PLR package includes an eBook, eCover graphics, articles, social posters, social media snippets and infographics. You will be able to help your website visitors learn how to boost their weight loss efforts. Here's what's included in detail…
Boost Your Weight Loss Efforts PLR Package


Boost Your Weight Loss Efforts PLR eBook
8,789 words, 42 pages. – Created using the articles in this package. Formatted and includes a table of contents with easy to click hyperlinked pages. Disclaimer, introduction, and conclusion added. Fully illustrated with our posters. Word and PDF formats supplied.

eBook Cover Graphics
eCovers in four different styles. Provided in both JPG and PNG formats. Plus PSD file to edit and brand as your own.

Articles
10 professionally written and edited articles. These have been repurposed to create the eBook. Word docs and text file formats.

Social Posters
Eye-catching social posters, one to complement each article. 100% royalty-free, commercial use licensed images. Web-ready files ready to use, plus the editable PSD files are included.

Social Media Posts
Each one complements an article and social poster in this package. Publish your content and share your to all your fave social media platforms!

5 Infographics
You'll receive 5 infographics to get even more shares on social media. Professional infographics show you as being an authority in your niche. Plus, they get lots of shares!

Boost Your Weight Loss Efforts PLR eBook
This eBook covers how habits and behaviors can affect weight loss, and how to boost your weight loss efforts. It includes a disclaimer, table of contents, introduction and conclusion. It is beautifully formatted and illustrated with royalty free, commercial use images. You will receive the editable word doc file and PDF. 8,789 words, 42 pages.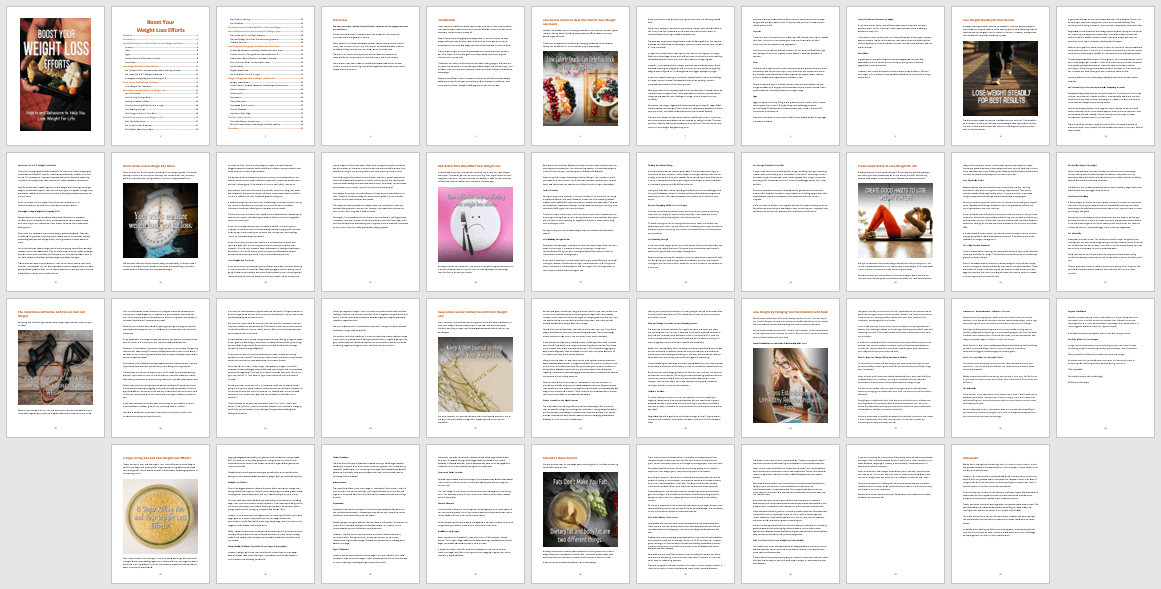 eCover Graphics
These eBook covers are designed with royalty free, commercial use images.
You'll receive 4 different style formats, plus the editable PSD file!


10 Weight Loss PLR Articles
Professionally written and edited articles. Post your article and poster on your website and use your snippet to share on your social media platforms. Build your list with great content in this pack!
Low-Calorie Snacks to Help Stick to Your Weight Loss Goals – 767
Lose Weight Steadily for Best Results – 744 words
Don't Let The Scales Weigh You Down – 662 words
Bad Habits That May Affect Your Weight Loss – 817 words
Create Good Habits to Lose Weight For Life – 715 words
The Importance of Positive Self-Talk on Diet and Weight – 823
Keep A Diet Journal to Help You with Your Weight Loss – 784
Lose Weight by Changing Your Relationship with Food – 848
Is Sugar Killing You and Your Weight Loss Efforts? – 873
Fats Don't Make You Fat – 876
10 Social Posters
You'll receive the web-ready files and the editable PSD files. Each poster complements an article in our pack. So you have the perfect image to use right at your fingertips. Ready-to-use and all done for you!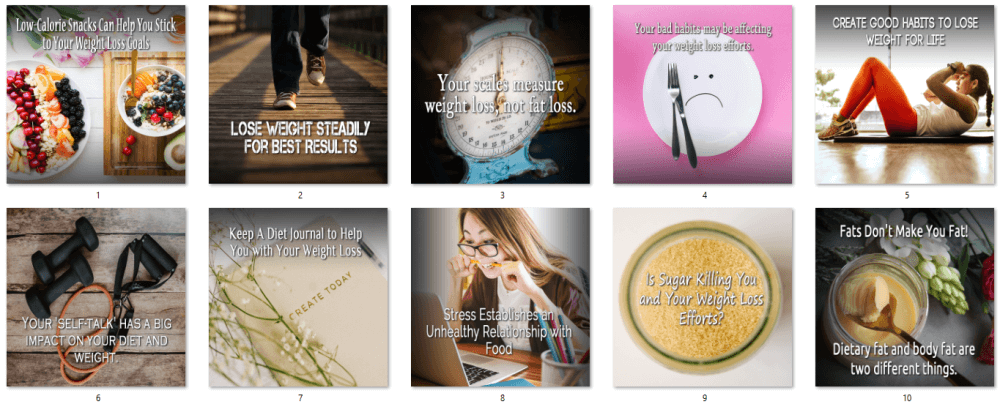 10 Social Media Snippets
We've provided the social media posts for you. Each one complements an article and its social poster in this package, so you can share as soon as you publish your content.

5 Weight Loss PLR Infographics
Professional infographics make you look like an authority in your niche. You will have your website visitors sharing these infographics. What a great way to get traffic back to your website. You will receive 5 infographics as shown below. They cover: Good Weight Loss Habits, Bad Weight Loss Habits, How to Eat Mindfully, Benefits of Keeping a Food Diary, and Your Habits and Weight Loss.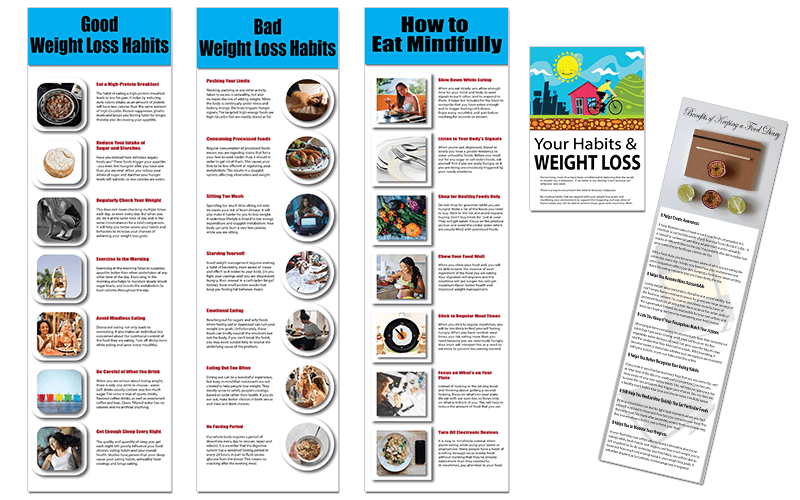 By now we're sure you can see the amazing value. Just click the button below to instantly receive this done-for-you package.
Only $37