If you have a women's health website, we have some gorgeous, informational social posters for you!
Women's Hormones – Social Posters
You'll have 52 'women's hormones posters to use wherever you like… and they're only 50c each! You can publish them on your website or social media platforms or both! We created these social posters to complement a package of articles written by Tiffany Lambert. (You can see the article titles and word counts below!)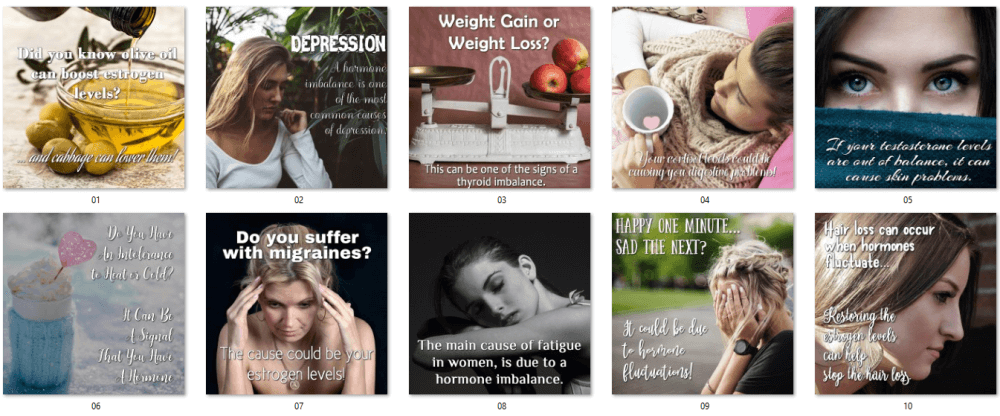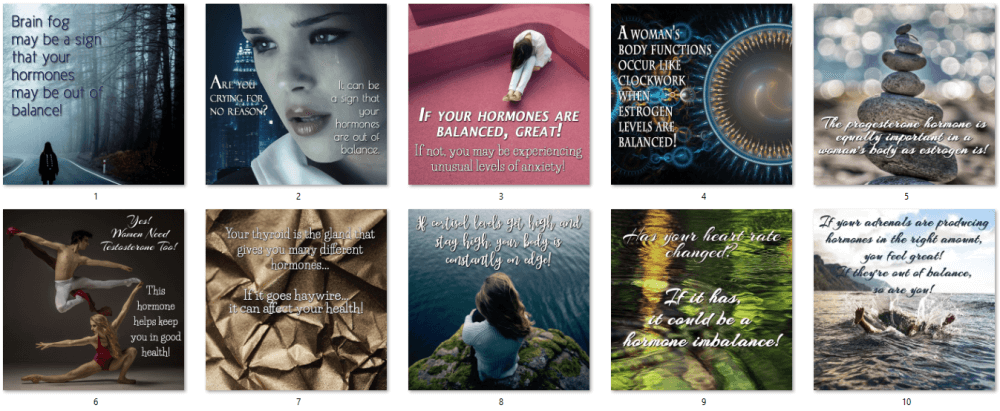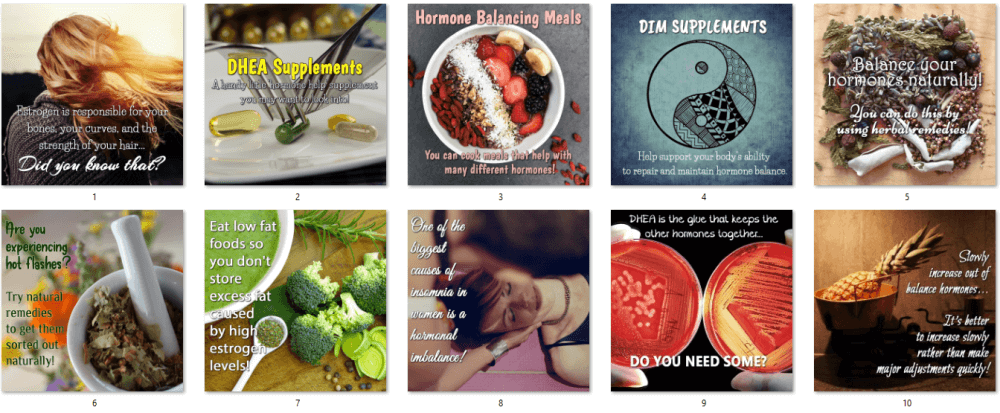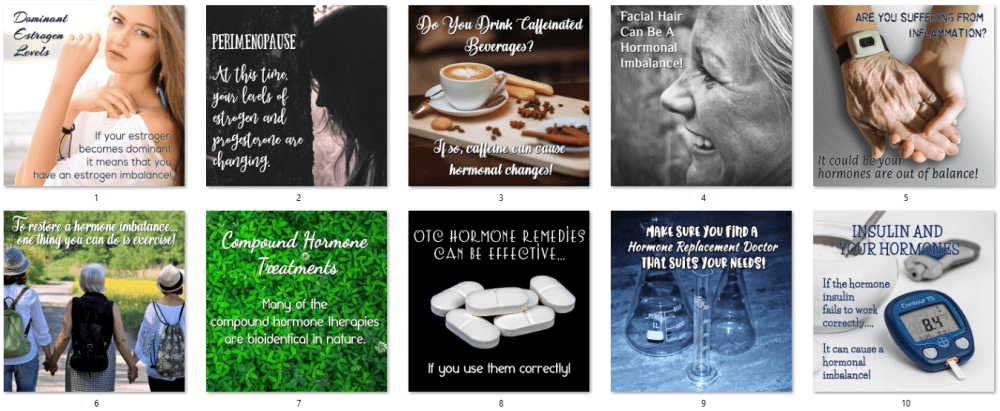 You'll have a poster for one blog post per week, for a whole year! That will help get people to share your content. Plus, we're giving you the PNG, JPG and PSD files for editing if you desire. All images are licensed for commercial use and are royalty free!
ONLY $37 $26

As we said above, we have designed these social posters to complement Tiffany's 'Women's Hormones PLR' package, however, you can purchase them separately if you so desire for a discounted price! It was difficult finding images to go with all these 'hormone' topics, but you don't have to, as we've done all the hard work for you!
Tiffany's 'Women's Hormones' PLR – PLUS Our Special BONUS Offer!
Tiffany has written 52 articles, plus a report! So you can get our posters as a free bonus if you purchase her package through our link here!

If you'd like to know the details of the women's hormones package, here they are…
1. Hormone Imbalances Can Happen at Any Age – 475 words
2. Depression Can Be a Sign of a Hormone Imbalance – 478 words
3. A Thyroid Hormone Imbalance May Cause Weight Gain or Loss – 461 words
4. Could Cortisol Levels Be Causing You Digestive Problems? – 469 words
5. When a Grown Woman Has Acne, It May Be Due to Testosterone – 413 words
6. Intolerance to Heat or Cold Can Signal a Hormone Imbalance – 446 words
7. If Migraines Keep Coming, Have Your Estrogen Levels Checked – 444 words
8. A Hormone Imbalance Can Cause Extreme Fatigue – 486 words
9. If Mood Swings Are Severe, It Could Be Due to Hormone Fluctuations – 456 words
10. Unbalanced Hormones Can Cause Embarrassing Hair Loss for Women – 462 words
11. Brain Fog Is a Sign That Your Hormones May Be Out of Whack – 451 words
12. Feeling Tearful for No Reason? It Could Be Your Hormones! – 530 words
13. Too Much Anxiety and Worry Can Be Cause by a Hormone Imbalance – 478 words
14. Why You Need Estrogen Levels Balanced – 433 words
15. How Progesterone Helps Your Body and Mind – 444 words
16. Yes, Women Need Testosterone, Too! – 436 words
17. Thyroid Hormones Can Wreak Havoc on Your Body If They're Unbalanced – 482 words
18. Cortisol Is a Silent Killer If Left Untreated – 453 words
19. Your Heart Rate Could Be a Good Indicator of a Hormone Imbalance – 479 words
20. Taking Care of Your Adrenal System When Hormones Are Unbalanced – 505 words
21. Understanding the Different Kinds of Estrogen – 455 words
22. Can DHEA Supplements Help Your Energy Levels and More? – 483 words
23. Can Cooking Certain Meals Help You Balance Your Hormones? – 496 words
24. What Does a DIM Supplement Do to Help Balance Your Hormones? – 493 words
25. Herbal Remedies That Assist Women with Hormone Balancing – 480 words
26. When Hot Flashes Hit, Try Remedies That Can Make Them Go Away – 460 words
27. Does Excess Estrogen Turn Calories Into Fat? – 481 words
28. If Insomnia Is Taking a Toll It Could Mean Your Hormones Are Unbalanced – 475 words
29. How Does DHEA Help with Hormone Imbalance Symptoms? – 468 words
30. Why Slowly Increasing Hormones Is Better Than Making Major Adjustments – 473 words
31. What Does It Mean to Be Estrogen Dominant? – 450 words
32. Recognizing Signs That You May Be in Perimenopause – 529 words
33. How Caffeine Can Impact Your Hormone Situation – 445 words
34. Is Facial Hair a Sign That Your Hormones Are Off Balance? – 481 words
35. Getting Your Hormones in Check Can Eliminate Crippling Inflammation – 467 words
36. What Exercises Can Help Women Suffering from Unbalanced Hormones? – 446 words
37. What Are Compound Hormone Treatments? – 419 words
38. Are Over the Counter Hormones Effective? – 477 words
39. Finding a Hormone Replacement Doctor That Suits Your Needs – 546 words
40. Don't Forget to Check Insulin Levels When Stabilizing Your Hormones – 436 words
41. Off Balance Hormones Are Not Just Part of the Aging Process – 510 words
42. No, You're Not Losing Your Mind – Your Hormones Are Just Off – 494 words
43. Regain Your Quality of Life By Having Your Hormones Rebalanced – 488 words
44. Repairing a Hormone Imbalance Protects Your Body Against Aging Diseases – 460 words
45. How Hormone Replacement Therapy Can Help Your Joint Health – 468 words
46. Watch Your Skin Regain Its Health Once Your Hormones Are Addressed – 453 words
47. Urine Versus Yams – Which One Should You Use? – 449 words
48. How Progesterone Can Help Prevent and Reverse Osteoporosis – 462 words
49. Is Hormone Replacement Therapy Helpful for Your Heart? – 468 words
50. Be Careful Not to Accidentally Spread Your Topical Hormones – 509 words
51. Hormone Replacement Therapy Might Mean You Get Off Other Medications – 498 words
52. Natural Ways to Reset Your Hormones – 468 words
6-Page Report: The Physical and Emotional Toll of Hormone Imbalance for Women
This 6-page, 2,485-word report started with an introduction and then covers the following:
Hormone Issues Resemble Other Ailments and Are Often Missed
Getting Tested for Vital Hormone Levels
Interpreting Your Results and Demanding an Action Plan for Relief
Topical, Oral and Pellet Therapy Options
Bioidentical Versus Synthetic Hormones.
Tiffany's Package + Our BONUS!
If you'd like our posters as a free bonus… you'll receive all Tiffany's content and our posters automatically in your download area!